Video marketing has been our hot topic lately.
Today's eTip showcases a local videographer's success story that happened while at my recent photo shoot.
Use your social media to make personal connections
A few years ago I was on Twitter and noticed something: someone from my local city was sharing and liking a lot of my posts!
Keith, a videographer, became a regular "fan" and naturally, I went and checked out his profile to find out more about him.
We eventually struck up some conversation and since then (after years of never even having met each other in person) we've been referring clients that have lead to paying work.
Through his efforts of becoming visible in front of me, he successfully got onto my radar if I ever needed, or knew of someone who needed, a videographer.
This video is about social media connections and in it Keith and I talk about the viability of social media and how it can be used properly from a business perspective to make connections that actually work.
Find your audience on social media
By using the #Abbotsford hashtag on Twitter, Keith narrowed his choices using a Twitter list within his feed to local businesses such as mine. This is a great tip for those who want to work with those local to them.
Twitter can be bogged down with international posts that won't matter to you as much. Try Keith's localization tip to nail down local connections.
Keith then reviewed who was using his localized hashtag as well and was able to start connecting and building out his business through social media.
By using his extensive background in video production Keith has been able to reach local clients for video shoots ranging from news reporting to corporate videos with great success.
Keith operates under Pathfinder Productions and you can find him on Facebook at: facebook.com/pathfinderproductions
This is a great example of how social media works. The trick is not to try tricks and use it honestly so you connect with other honest businesses. Localizing your efforts is a great way to find people who want to connect in your own area.
If you have any questions about improving your video quality to strengthen your online marketing, feel free to leave a message in the comment section below and I'd be happy to answer.
Until next time,
Susan Friesen
P.S. New to Social Media and online marketing or find it overwhelming and confusing? Check out Social Blast: eMarketing for Entrepreneurs. It's a monthly group coaching program for those just starting out or wanting more advanced strategies to help with their online marketing and social media efforts.
>> CLICK HERE FOR DETAILS
P.P.S. If you found this article helpful, please share it with your Twitter followers:
How Social Media Can Lead to New Collaborations and Work
Click To Tweet
About the Author, Susan Friesen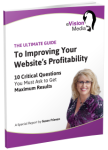 Susan Friesen is the founder of eVision Media, a boutique web development and Digital Marketing firm of over 15 years that specializes in designing, building and marketing professional, unique websites for entrepreneurs, businesses and organizations.
Visit www.ultimatewebsiteguide.ca and grab your FREE "Ultimate Guide to Improving Your Website's Profitability - 10 Critical Questions You Must Ask to Get Maximum Results".