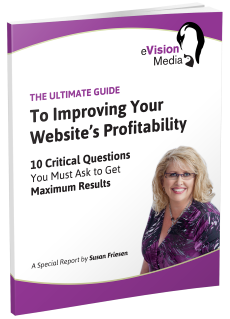 The Ultimate Guide to Improving Your Website's Profitability
10 Critical Questions You Must Ask to Get Maximum Results
Is your website not working?
Grab this free guide to learn how to create your business website that will get you the leads and sales you want.
In this FREE PDF download you will:
Download Your Free Guide Right Now…
Simply enter your first name and valid email address below. You'll receive this guide as soon as you confirm your email address with us so be sure to check your email as soon as you click the purple button below!
Note: We greatly respect your privacy and will protect your information. You may unsubscribe anytime.
Learn why it is important to really know who your ideal client is and how to write to them to get optimal results.

Gain a better understanding of branding, what it is, and why it is critical to your professional presence.

Learn valuable tips and strategies on copywriting, web design and web development.

Pick up Search Engine Optimization and eMarketing strategies you can implement right away.

Discover the technical reasons why having a properly built website will get you the results you want

Find out why search engines favour properly built websites too.

And much more!
Sign up to receive this free guide plus receive weekly eBusiness tips and strategies delivered to your inbox.
We look forward to being in touch with you!