About eVision Media
Located in the lower mainland of British Columbia, Susan Friesen and our eVision Media team have been in the web development and marketing business since 1999.
We comprise of an amazing group of talent including highly skilled Programmers, SEO and Marketing Specialists, Computer Technicians, as well as Copywriters, Social Media Writers and Graphic Designers that specialize in both online and print media.

"It is with great delight, appreciation and gratitude that I write this recommendation. Susan is a first class marketer with a solid background and understanding of her industry. Susan has a strong passion for her work connecting women entrepreneurs through social media marketing, providing mentorship and coaching to ensure success with their business.
Susan and her team of excellent staff work with consistent professionalism at all times. They produced a first class brand and website for my business including all my marketing promotional material, which I receive positive feedback from my clients often.
I would highly recommend eVision Media for any person looking to have professional high quality work created and delivered on time and within budget.
As a women entrepreneur approaching my first year in business having Susan market and support my journey has been a key advantage to of my success. Thank you Susan."
Jean Burns
JB Home Staging
www.JBHomeStaging.com
---
Our History
eVision Media first began when Susan Friesen, owner, decided to go back to school. While earning her business degree, she worked on client sites in between studying and exams. Once she graduated, eVision Media (then named Heavenly New Media) started to form a more solid stance in the web development industry and since those humble beginnings in 1999, it has grown immensely. As the "eBusiness" in our name suggests, our service offerings can help your business establish and succeed in the rapidly growing realm of the Internet.
Our services range from web development and e-commerce to SEO and eMarketing, graphic design, copywriting, social media and eBusiness mentoring.
Our Philosophy
To provide exceptional service, quality and excellence while striving for total customer satisfaction. We nurture long-term relationships through our professional, caring and motivated team members and make every effort to assist our valued clients in building their business.
Why the Penguin?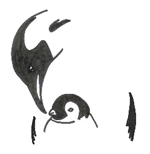 Sometimes we are asked why we used the penguin as our symbol in our logo. Well, it all started when…. Susan and Daniel went to see March of the Penguins
" and were immediately mesmorized by the love story that was unfolding before our eyes.
These majestic creatures, the Emperor Penguin, were the symbol of qualities eVision Media stands for: Strength, Endurance, Pride, Dependability, Commitment, Loyalty, Togetherness and most importantly, Nurturing. Our business is built on nurturing our clients into success and being the support system a business needs in this technical day and age. The Emperor Penguin was the perfect symbol to portray these qualities.
We asked Daniel's mom, Minette, to hand draw the image of a parent penguin nurturing its young chick snuggled close in the folds of its body. She knew exactly what we were wanting and the results are in our very first logo seen to the right. Thanks Minette!
In February of 2011, we re-branded and modernized our Emperor Penguin to the logo you see today on this site.
Click here to get to know our founder, Susan Friesen
or
Click here to see the list of services we provide.
Evision Media Abbotsford Web Developers, Abbotsford Website Design, Abbotsford SEO, Abbostford Social Media, Fraser Valley Web Development, Fraser Valley Website Design, Fraser Valley SEO, Fraser Valley Social Media
eVision Media Premier full-service web design, website devlopment SEO, internet marketing, Graphic Design and social media company located in Abbotsford, BC Canada Since 1999
Whether you need a small one page website, custome Word Press or custom website development complete with a Content Management System (CMS), Ecommerce, and Search Engine Optimization, eVision Media is your answer and we will help you accomplish your online business goals.
is a full-service Fraser Valley-Vancouver Area web design company with expertise in website design, mobile design, mobile apps, SharePoint Intranets, Magento ecommerce, Drupal & WordPress websites, SEO & Internet marketing and social media expertise
Our company also serves the surrounding areas of Burnaby, North Vancouver, West Vancouver, Richmond, Surrey, Delta, Coquitlam, Port Coquitlam, Port Moody, Langley, Pitt Meadows, Maple Ridge, Abbotsford, Mission and Chilliwack. The central location of our Maple Ridge Web Design company gives us the ability to personally meet our clients in the Lower Mainland and Fraser Valley.
We take the time to understand your business and its needs, so you get a unique web solution that enhances your companys image, its operational efficiency and online visibility. Our services give you the very best – from design to functionality, from navigation to formatting, and from content to graphics – on every page.
Our Web design encompasses many different skills and disciplines in the production and maintenance of websites. The different areas of web design include web graphic design; interface design; authoring, including standardised code and proprietary software; user experience design; and search engine optimization. Often many individuals will work in teams covering different aspects of the design process, although some designers will cover them all. The term web design is normally used to describe the design process relating to the front-end (client side) design of a website including writing mark up. Web design partially overlaps web engineering in the broader scope of web development. Web designers are expected to have an awareness of usability and if their role involves creating mark up then they are also expected to be up to date with web accessibility guidelines.