In this eTip I explain what it takes to make yourself known when you're at networking events by getting your personal brand to work for you.
How can personal branding help you when in a group environment?
If you watched last week's video you saw my interview with personal branding expert Dana Smithers. Carrying that theme through today's video will be focused on that established personal brand and how to get it working for you when you're networking and meeting new people.
Many people don't realize just how much of an impact their personal brand can make and this is especially true when at conferences or other large networking events when you could connect with your ideal target market.
Sometimes we forget about how we come across to others when at these events. While these events are not about networking make sure you're aware that you have to be open to the idea of meeting potential new clients.
While at the Woman Of Worth event I saw many examples of personal branding being showcased. One author even had her hair dyed purple which caught the attention of the MC. Some showed off tattoos and other eye grabbing details while others were in comfort clothes.
The contrast between the two stood out to me. While not there to build out their client list they were showcasing their brands. Wearing a hoodie and sweatpants at an event like that conveys the message that they're not concerned about quality. By not paying attention to their personal brand they send the message about how they run their business too and it isn't a good message.
Make sure that you're dressing the part when at events. Be a brand representative and remember that you're appearance and demeanor are being judged. You could be arms length from a great lead and not even know it so dress for success in case that potential lead is looking for what you provide.
Think it through and it should make sense to you. If you have tattoos and own a tattoo parlour then it makes sense to show those off in your personal brand. If you're a lawyer then it may be a better idea to dress conservatively and hide the body art.
Even if you're an introvert you can bring out your personal brand in a measured, conservative way. You don't have to change who you are but don't use any social barriers as an excuse for missing an opportunity.
The takeaway is to showcase your unique selling position in your personal brand. At any given moment you could be face to face with your ideal client. Make sure you're in a position to capitalize on the opportunity if it's presented. Wear your brand colours, show off a style that helps convey your business goals, and remember to smile and enjoy yourself!
Don't forget that if you liked what you saw here please subscribe to our Youtube channel or newsletter so you can get updates and videos for small business entrepreneurs every week!
Until next time,
Susan Friesen
P.S. Are you ready to take your business to the next level? Our "All Under One Roof" boutique web development and digital marketing firm can help you make your vision a reality.
› CONTACT US TODAY
About the Author, Susan Friesen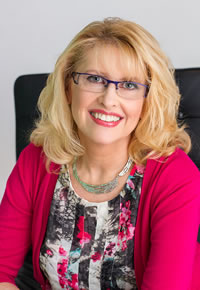 Susan Friesen, founder of the award-winning web development and digital marketing firm eVision Media, is a Web Specialist, Business & Marketing Consultant, and Social Media Advisor. She works with entrepreneurs who struggle with having the lack of knowledge, skill and support needed to create their online business presence.
As a result of working with Susan and her team, clients feel confident and relieved knowing their online marketing is in trustworthy and caring hands so they can focus on building their business with peace of mind at having a perfect support system in place to guide them every step of the way.
Visit www.ultimatewebsiteguide.ca and download your FREE "Ultimate Guide to Improving Your Website's Profitability - 10 Critical Questions You Must Ask to Get Maximum Results".