Today's eTip is about how important it is to let your personal brand shine so you show off the real you and the best you!
The value of letting your personal brand shine
Building a personal brand is important and you put a lot of work into it so don't by shy about who you are. Too often as women in business we're told the expectation is to be demure and reserved but there is a lot to be said about simply being yourself if your business and brand are built around who you are.
When building up your personal and business brands you should have taken the key step of defining your ideal client so with that in mind you should remember that your deal client wants you! If you restrict yourself you're actually doing yourself a disservice.
It may even mean potential clients outside the spectrum of your ideal client are put off but that's totally okay because what you really want for both your business and peace of mind are the clients you've defined as best suited to you and your business.
Be confident in your personal brand and own who you are. 
Do you swear a lot? Hiding that from the offset of client interaction creates the expectation that you will consistently hide it and eventually the client will get to know the real you. When that happens and you've presented a false version of yourself it can create issues that would have been avoided had you showed the real you at the start.
While it's not for me personally and does not align with my personal branding there are many examples of successful people who curse!
Promote what makes you unique
The more unique you are the more likely you will stand out to potential clients.
Let your personality shine through so everyone knows what you're about. In saying that you should also keep in mind that your accomplishments should be worn on your sleeve. Never shy away from telling people about what you've accomplished in the past.
This doesn't mean telling people that you think you're great or what you think you're great at; tell them why you feel that way and what you've done that has instilled confidence in you in your skill set or product.
Use key terms like 'I accomplished', 'I generated', 'I completed' and follow up with something genuine that you've done that makes you confident in yourself.
Accept praise with grace
This is a personal fault of my own. It's sometimes tough to respond to a compliment but I highly recommend you take a moment and accept it. Thank them and let them know you appreciate it. Never deflect or reject praise.
Now the goal is to surround yourself with your target market so when you are being yourself you're around the right people for it.
Not everyone appeals to everyone so put yourself in places where your ideal clients will be present. Mixing water with oil will just cause you unnecessary problems.
By placing yourself in the right setting and letting yourself shine with a strong personal brand you will lead yourself to your ideal clients so you have a much better time working with with people who like who you are and what you do.
Trying to be all things to all people can lead to hurdles that are best avoided while you build out your client roster with people who fit well with you.
That's it for today's eTip and don't forget that if you liked what you saw here please subscribe to our Youtube channel or newsletter so you can get updates and videos for small business entrepreneurs every week!
Until next time,
Susan Friesen
P.S. Are you ready to take your business to the next level? Our "All Under One Roof" boutique web development and digital marketing firm can help you make your vision a reality.
› CONTACT US TODAY
About the Author, Susan Friesen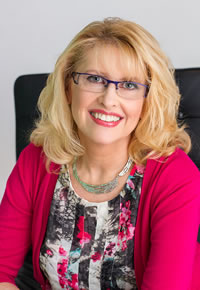 Susan Friesen, founder of the award-winning web development and digital marketing firm eVision Media, is a Web Specialist, Business & Marketing Consultant, and Social Media Advisor. She works with entrepreneurs who struggle with having the lack of knowledge, skill and support needed to create their online business presence.
As a result of working with Susan and her team, clients feel confident and relieved knowing their online marketing is in trustworthy and caring hands so they can focus on building their business with peace of mind at having a perfect support system in place to guide them every step of the way.
Visit www.ultimatewebsiteguide.ca and download your FREE "Ultimate Guide to Improving Your Website's Profitability - 10 Critical Questions You Must Ask to Get Maximum Results".