Today's eTip is all about the most important step you should take when starting your business.
Define your ideal client
I've talked a lot about this in the past and the reason myself and many others hammer this point home is that after you've experienced initial success from your business you'll hit a very familiar wall.
When your established connections have finished congratulating you, the phone may not ring as much or not at all. You had a blockbuster opening full of encouraging sentiments and then suddenly…reality sets in and you now have to start finding ways to bring new people in to see what you sell or do.
So now it's time to ask yourself: who do I want to work with?
Do you need to target local, national, or international? If you want to target international you need to be specific about where and really think this through.
Types of ideal clients
What income level will you be after? It's important to make all groups distinct in your marketing since each group will have different reasons for agreeing to buy from or work with you.
For example: If you offer a weight loss program don't just look for people who know they're overweight. Look for people who have symptoms of being overweight but don't even know it. Focus on the symptoms they've identified and target users who have them.
Bad knees or trouble with mobility? Those users may need what you offer but are out looking for patches for the symptoms of their real problem. They don't know their problems stem from their core issue (their weight problem).
Target them by offering a solution to their problems.
As mentioned, income level is a big factor too. Ask yourself if the target you set can even afford what you offer. There is no sense marketing to a demographic who can't afford your product or service.
Think about the case of a business who's target (they think) is a young mother. If you're after that market take into account that the children come first so any income they bring in is likely spent on themselves last. That makes it much more difficult for anyone to market to them. So is that demographic going to produce enough business?
Focus on bigger picture goals and not just leads who may turn into one off customers. Referrals are much better.
Look for clients who will refer people to you. eVision Media has grown based on referral business so take into account the opportunities some potential clients may offer in the way of referrals.
90-95% of our business comes from referrals!
Once I get a referral I analyze how it came about. What value did we provide that was good enough for us to be referred to our client's friend or associate? We work towards building more connections like that when we do our marketing and when picking who we target.
Are all your ideal clients the same?
Assess your strengths and understand that while you may have a great product it may not seem that way too all generations. How old is your market and if it is younger, what makes those leads distinct?
What kind of message will you need to come up with in order to establish trust with your potential client? Building trust from one generation to another is not easy so make sure you really pay attention to the details.
So BEFORE you create your logo, business cards, or hire a professional web developer you should sit down and define your ideal client(s).
This analysis acts as the blueprint for all the marketing from the logo to the website and all other creative and marketing components.
Before you invest anything, get to know your market and get a clear indication that you have a market out there. It's not worth wasting your time and money on something without a market for it!
If you have any questions about finding the ideal client please comment below and if you liked what you saw here please subscribe to our Youtube channel or newsletter so you can get updates and videos for small business entrepreneurs every week!
Until next time,
Susan Friesen
P.S. Are you ready to take your business to the next level? Our "All Under One Roof" boutique web development and digital marketing firm can help you make your vision a reality.
› CONTACT US TODAY
About the Author, Susan Friesen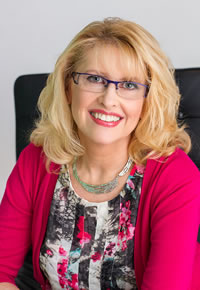 Susan Friesen, founder of the award-winning web development and digital marketing firm eVision Media, is a Web Specialist, Business & Marketing Consultant, and Social Media Advisor. She works with entrepreneurs who struggle with having the lack of knowledge, skill and support needed to create their online business presence.
As a result of working with Susan and her team, clients feel confident and relieved knowing their online marketing is in trustworthy and caring hands so they can focus on building their business with peace of mind at having a perfect support system in place to guide them every step of the way.
Visit www.ultimatewebsiteguide.ca and download your FREE "Ultimate Guide to Improving Your Website's Profitability - 10 Critical Questions You Must Ask to Get Maximum Results".