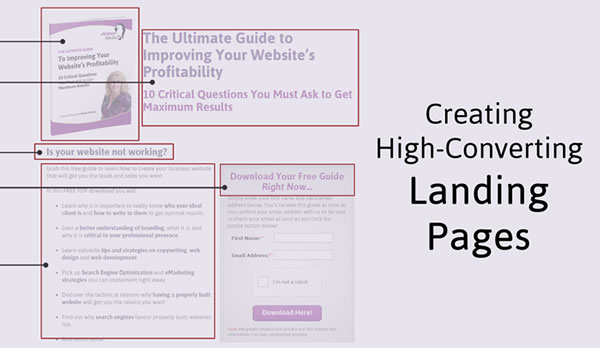 Want to know the secret to building a list of ready-to-buy prospects?
It all starts with building an effective landing page.
Whether you are hosting a webinar, giving away a special report, selling a program, or presenting a video series, a landing page is what's needed to get visitors to participate.
This is a very effective means to capturing leads for your business and if done correctly, you should see a high conversion rate.
Here are the keys to building a high-converting landing page:
Start with a clean design – Your landing page should be simple, effective and focused. A landing page with balanced "white space" makes it easier for visitors to focus on the message, which will boost conversion.
Add a powerfully descriptive headline/subheadline – It's worth taking the time to craft a well-written headline! A solid headline is like "bait" to snag the reader's attention and lead them into the rest of the copy. Write a bad headline, and you've already lost the reader.

Next add a subheadline that provides additional information that makes your headline even more juicy and tempting.

Kick it up with pictures – Adding images will make your landing page more eye-catching. Plus it helps draw readers down through the page. Choose images that are highly relevant, complements the headline and sparks emotion.
Identify their pain – It's important to identify the reader's pain with descriptive, emotional words that capture the conversation going on in their head. The basic emotional pain points to consider involve the core human needs for survival, belonging, achievement, and helping others. For example people care about making their lives easier, being pain free, saving time, saving/making money and avoiding frustration.
Present your solution – Introduce what you are offering that will cure their pain or alleviate their struggle. It's important to describe the value of your offering and what is does so that it's clear on what they'll get.
How it relieves their pain – The next step is to show how their need will be satisfied if they try your solution. This is your value proposition.  Add bullet points for the benefits that they will gain in simple language.  Check to make sure it's consumer-oriented (and not about you or using too much industry jargon.)  After each point you make ask yourself "so what".  The answer will keep it focused on why it's valuable to them.
Create a call to action – Place a call to action both in wording and a graphic button. Use big, bold, clear wording that directs them sign up or buy.
Stick to the bare essentials – Less is more. It's important not to have extra links, visuals, or wording that distracts from your goal – getting them to sign up. Having a "stand alone" landing page that doesn't include your website's complete navigation or other distractions can keep viewers focused on the message and the offer.
Add formatting that makes the page scannable. Add colour, bolding and italics to help lead readers down the page. Very few people will read your copy word for word, so make sure they get the big picture clearly with just a quick glance through effective formatting.
Test and tweak– Testing makes perfect. Little differences like colour, headlines, and images can make a huge difference in conversion rates. Doing a small A/B test with 2 slightly different designs will help you identify the best converting page to use before you promote your offer.
Take advantage of these tips to help you to create a high-converting landing page.  A few simple adjustments can make a dramatic difference in boosting your conversion rate.
The result is a lead-capturing page that can boost sign ups and increase sales.
Do you have a landing page on your website? Share below what your biggest takeaway was from this article, we'd love to hear your thoughts!
To your success,
Susan Friesen
P.S. If you want to learn more about marketing strategies, consider joining our live monthly Social Blast group coaching program where I cover these topics and other Social Media strategies to help build your business. Learn more here: www.socialblastcoaching.com
About the Author, Susan Friesen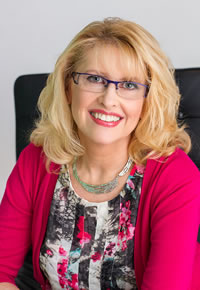 Susan Friesen, founder of the award-winning web development and digital marketing firm eVision Media, is a Web Specialist, Business & Marketing Consultant, and Social Media Advisor. She works with entrepreneurs who struggle with having the lack of knowledge, skill and support needed to create their online business presence.
As a result of working with Susan and her team, clients feel confident and relieved knowing their online marketing is in trustworthy and caring hands so they can focus on building their business with peace of mind at having a perfect support system in place to guide them every step of the way.
Visit www.ultimatewebsiteguide.ca and download your FREE "Ultimate Guide to Improving Your Website's Profitability - 10 Critical Questions You Must Ask to Get Maximum Results".