Custom Web Design & Development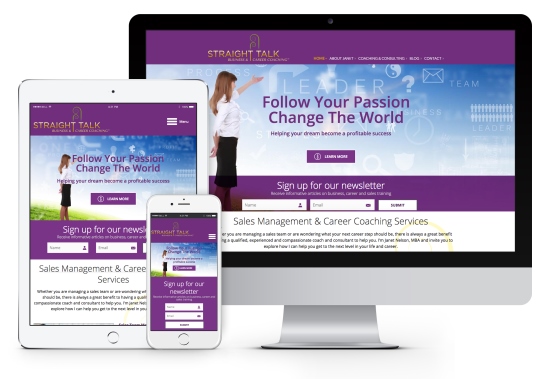 Are You Losing Sales Because of
Your Current Website?
Are You New to Business and Need More Than Just a Web Developer? Someone to Provide Guidance, Support and Fulfill All of Your Start-up and On-Going Needs?
For over ten years, we have worked with both brand new entrepreneurs and established business owners. No matter which one you are, we understand what your needs are and have tailored our service offerings to ensure they are fulfilled.
Here's what makes us different from many other web developers…
Often new clients come to us saying their current site was built by someone who "just didn't get it" and didn't deliver what they really needed. Sometimes they say they are tired of not getting any results – the sales or leads aren't happening.
The one thing they don't know, however, is WHY they aren't getting any results.
The primary reasons why a website isn't performing well are simply because either it wasn't built, written or marketed properly… often all three.
Kind Words from a Client:
"I am extremely thankful for the expertise that Susan and staff have poured into our not-for-profit organization. Throughout the website development process, I have been highly impressed with Susan's technical ability, customer service, and marketing knowledge. Susan has been extremely efficient in meeting our requests, and consistently displayed a positive attitude through out the process. I have relied on Susan's wealth of information, and am confident that our organization is being represented in a manner that is true to our values. With both the big projects and the small requests we sent her way, Susan has worked with equal diligence. I absolutely recommend Susan and eVision Media for any and all marketing and website development needs."
~ Jennifer Siemens
Community Justice Initiatives
www.cjibc.org
www.youthblackbook.com
First Impressions Can Make or Break Your Brand
Have you ever visited a website and were immediately turned off by how it looked?
Maybe it had flashing text or bright yellow graphics that were in your face. Perhaps the pop-up windows got to you? Or the very amateurish way it looked overall? What kind of first impression did you get of that business? Did you stick around or immediately leave thinking they were not someone you could trust your money with?
There are thousands of poorly designed, written and built websites out there by people who think because they know how to use the right software, they consider themselves web developers. Often they are very low priced due to not truly understanding the complex nature of this industry.
Yes, it is possible to create a website in 1 hour or pay only $100 for one, but the question is, will it give you the results you need to make your business flourish?
In the end: You Get What you Pay For.
Relax, We've Got You Covered
Do any of these scenarios sound familiar?
Problem: You just started in business and have no idea where to begin. A friend told you to save money and use one of those free blog sites to make your own but ended up spending hundreds of hours of frustration and only getting a very amateurish-looking result. Half the links won't work and the graphics take forever to show up…

Solution: Sadly, there are a lot of well-meaning people out there that want to save you money by suggesting the cheapest route possible for you to get your business up and running. What is often overlooked is the value of your investment in both time and money and how critical it is to invest wisely in the marketing of your business (remember, your website is your primary marketing piece and should be treated as such).

Since you can't write-off any of your own hours spent on your business, it ends up being a waste of time and money unless you already have the creative artistry, technical knowledge, marketing expertise and copywriting capability to create an effective website that will get you the clients and sales you need to survive. We do.
Problem: When you do a Google search for your business keywords, your site doesn't show up until many pages in, making it practically invisible to people doing searches for services/products like yours (called organic traffic).

Solution: We will build your site so the HTML code behind the scenes is fully validated and error-free. This makes it automatically search engine (SEO) friendly and has a much better chance at getting higher in the rankings. To guarantee higher rankings however, our SEO/eMarketing services will provide excellent results in driving more traffic to your site.
Problem: On some computers, my site looks out of whack and not at all how I see it on my computer.

Solution: Because we will build your site with fully validated and error-free HTML code, it will appear as intended in all of the commonly used browsers.
Problem: Your stats indicate people are leaving after just a few seconds on your site.

Solution: There could be several reasons for this: Most commonly, either the page didn't appear fast enough or the user didn't find what they were looking for. Large files will bog down your site's performance and people will leave rather than wait for it to appear.

We optimize all images for speedy download time. Moreover, a poorly designed and written site will turn people away if they didn't see/read what they were expecting when they got there. We'll ensure your site reflects what your ideal traffic is anticipating to see so they can be easily converted into clients.
Problem: Your site looks a lot like your competitor's.

Solution: We don't use cookie-cutter templates, period. Templates (such as WordPress or free templates provided by your web host) are coded terribly (I lovingly call it "junk code") and look the same as everyone else that uses them. This can't possibly differentiate you from your competitor or anyone else. We design your site to be as unique as you are so your USP is clearly evident on why someone should do business with you instead of your competitor.
Problem: Your site was built entirely in Flash. It looks very nice but people tell you it takes a while for it to show up (if at all) or it's too busy and overwhelming. You can't find your site in the search engines either.

Solution: We avoid using Flash unless it really works in specific places that matches the purpose of the site. Flash built sites cannot easily be indexed by the search engines and have the potential to not be viewed by certain computers and browsers due to missing or old plug-ins that are needed to see Flash.
Problem: You found out you can update your own site but you don't have the time nor the inclination to learn to be a website developer/copywriter. As a result, you have no support to help you take care of site updates and maintenance.

Solution: We only use CMS (Content Management) systems if the client clearly indicates they want to update the site themselves; otherwise, our sites are hand-coded to ensure they get optimal performance.

We also provide on-going support for each of our clients to help them with any need they have. Whether it's to set up an email account, create an eNewsletter or update their website, we are available with quick and efficient help.
Problem: Your site was built a while ago but the person who did it has disappeared. You can't get a-hold of them to do any updates and fix some broken links. Sometimes they respond and promise they'll do the fixes but it takes weeks before you hear back from them!

Solution: Unfortunately, we hear this a lot. Many developers are only interested in the big money of initially developing a site and find it too bothersome to offer any kind of on-going support. They are off frying other fish, having long forgotten about you.

We don't abandon our clients after their site is built. In fact, we truly invest a lot of time and energy into their success and are eager to offer on-going support as needed. Our maintenance rate is very reasonable and we only charge in 10 minute increments so it's very economical to have us do the updates so you can focus on building your business.
Kind Words from a Client:
"What a great find! When we started our business in the fall of 2007, we were looking for a way to get ourselves on the web and find someone who knew what they were doing, recognized the style we wanted and be approachable. We found all that – and more – with eVision Media. Susan and Dan have been fantastic, helpful and just great to deal with.
We still get compliments on our website every week from people who have browsed through it. Some of their comments are: 'Beautiful! So easy to use! Great colour scheme! Welcoming!' We have been more than thrilled with all of our business dealings with eVision. Dan and Susan are more than just a business, they have become friends who we look foward to seeing at our B&B or just stopping by for pie! We highly recommend eVision Media!"
~ Andy and Marlene Wouda
www.BlackberryLaneBandB.com
» Contact us today to find out more about our professional web development services
Imagine the Boost in Business You Will See When Your Website is Designed Specific for Your Target Market
It is critical to have:
A website designed so it will look professional and instantly appealing so you can proudly send potential customers to your site and confidently know it is working in your best interest.

An impactful "look and feel" in accordance to your business branding to enhance a long-lasting favourable impression on your site visitors.

A custom design so that it will stand out from your competitors.

Your developer Listen to your needs and goals to ensure your website will fulfill those goals.

A partner that cares about your website making that all-important first impression the BEST impression possible. You only have 9 seconds to accomplish this or the visitor has hit the back button before you can even begin to tell them how much your product or service is amazing.
Kind Words from a Client:
"What can I say! Susan and her staff have done such a great job on my website!!! I have had responses from many people that know me well, about how much Susan was able to capture the very essence of how I feel about my service, and was able to truly represent me. I take pride in telling customers to go to my website to take a peek. Lots of work goes into a website, and you can trust in Susan and her team to provide you with nothing but the best in all areas. Thanks again Susan, job well done!"
~ Linda Jane
www.CreativeMusicFactory.ca
» Contact us today to find out more about our professional web development services
What Makes Us Different?
Just ask our existing clients. No kidding, check out all the testimonials we have posted throughout this site – they come in all the time. Basically, this is what they amount to say:
Our experience and knowledge will help you create an exceptional web presence on the Internet.

We do more than just "code" a website – we partner with you and provide guidance, coaching, expertise and knowledge to get your business off to a perfect start.

We are a team that includes talented graphic designers, educated copywriters, experienced marketers and exceptional programmers. One person cannot deliver great quality in all these areas so this is why, as a team, you are well taken care of by our "all-in-one" boutique firm.

We have a business background and education so understand exactly what challenges you face. You will be guided through this overwhelming process one step at a time. We also offer mentoring packages to personally guide you through and help you understand how you can take advantage of the Internet for your business success.

We understand the critical importance of branding and will help you establish your unique brand and then translate it through our graphic design services. All of your business branding needs are taken care of, from logo creation to business cards, pamphlets, brochures, signs and more.

We offer eBusiness mentoring that will provide step-by-step suggestions and guidance on how to effectively build your business using the many marketing tools that are available to you.

We Listen ~ We Respond ~ We Care. Seriously, we do. 'Nuff said.
Kind Words from a Client:
"I am an entrepreneur and successful small business owner. The time had come for me to 'declutter' my life and reduce my stress by hiring the experts to do jobs I no longer wanted to do and didn't do well. When I needed to find a new webmaster Susan Friesen was referred to me. She has been one of those 'angels in disguise' who has taken over my website so that I can focus on the things I love to do, and do well. Susan has been responsive, dedicated, professional, timely, easy to work with, and she has been so helpful in helping me focus on my core business. In a word – she is 'brilliant' at what she does."
~ Dana J. Smithers
www.empoweredwomeninbusiness.com
In a Nutshell, You…
Are welcomed whether a new or established business.

Can have your existing site re-designed and re-built or have a brand new site done with these options (and more) to consider:

eCommerce shopping cart system with affiliate programs and auto responders etc…
Content Management System if you wish to update your website yourself
Blogs, Calendars, Polls, "Tell a Friend", Photo Galleries, "What's New" and many other web-based tools

Can benefit from a completely customized solution specific for your needs.

Can receive a full branding package from logo design to print marketing materials that enhance your website branding image.

Will get help setting up your domain name, email addresses and web server account.

Will receive assistance in creating (design, code and set up all the background systems): teleseminars, webinars and other special events so you can do a product launch or special event promotion.

Can build your tribe through eNewsletters where we'll design, implement and even send them out for you.

Add audio and video to your site.

Enjoy passive income through affiliate links that promote other business's products.

Can enjoy highly targeted traffic to your site through our effective SEO and eMarketing packages.

Can rest easy knowing you have on-going support after your site is launched.
Get started now with our free 30-minute consultation so you can build a thriving business