Social Media Management Services
Not enough time in the day to get everything done, let alone your social media requirements?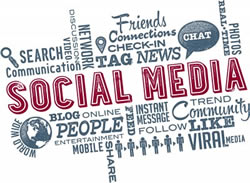 As a solo entrepreneur or business owner, it's hard to find enough hours in a day to juggle all of your business and marketing demands, which often social media engagement becoming last on your priority list.
That's why we created a whole social media division for entrepreneurs and small business owners like you that understand the importance of having a social media presence and also have a firm belief in the benefits of inbound, relationship marketing techniques, but simply don't have the time to make it all happen.
Our Social Marketing Includes:
Group Social Media Membership Program

Account Creation and Optimization

Ideal Client Definition

Content Writing and Curation

Community Engagement and Building

Article Writing and Newsletter Sending

Analytic Reporting
A Customized Package for Your Needs and Budget
Together we will review your current social media accounts and activities as well as your website to see what needs to be done that will lay a solid foundation for our collaborative success. Your customized package will then be presented that includes the following options:
The First Month
First we will go through each of the social media accounts you want us to manage and fully optimize them for the best effectiveness. Depending on your needs, we will do some or all of the following for you:
Create an Ideal Customer Profile
Set up and optimize your Facebook, LinkedIn and Twitter accounts
Design cover and background images that depict your unique brand
Install an eNewsletter signup tab on Facebook
Set up article repository accounts that are pertinent to your industry/target market
Set up a free Hootsuite account for managing your social media
Upgrade and optimize for SEO your WordPress blog (or install and set up if not present)
Create and write an auto responder series for your eNewsletter.
Integrate an eNewsletter into your website
Social media integration with website
The Monthly Plan
Our goal is to get you more followers, engage in conversation with them and develop a loyal following from sharing helpful and informative posts that they will appreciate. Our efforts will be geared towards brand enhancement, list building and positive PR.
The only way social media can be effective in marketing is to use it consistently and use it as a relationship-building tool – not a "selling" tool. Our services will keep your social media presence consistent in order to build and enhance your brand awareness so you can develop a "know, like and trust" factor with your followers.
We offer the following services that will relieve you of the burden of managing all of this yourself:
Group Social Media Coaching
Even though we will do a lot of the posts for you, it's imperative you take a few minutes to get involved yourself. The personal touch is the only way that you can build true relationships with your followers. Sometimes this sounds easier than what it is!
That's why this package includes being a member of our >Social Blast: eMarketing for Entrepreneurs group coaching program where you will be taught tips and strategies on how to use social media to your best advantage.  There's a 15 minute Q&A for any questions and the sessions are recorded for unlimited access. You will also be a member of our private Facebook group to continue connecting with other members and receiving further support as needed.
Content Curating and Witing for:
Facebook Personal Profile
Facebook Business Page
Twitter
LinkedIn
Google+
Pinterest
HOUZZ
YouTube
Article Writing
Take bullet list/draft text you supply or research for a generic topic from your industry and write one article a month that is suitable for blog posts and other places to use article.
Find, purchase and include 1 stock photo suitable for article
Post article into blog (ensure all SEO components are taken into consideration)
Propagate article to social media channels
Post article to 5 article repositories pertinent for your industry/target market
eNewsletter Writing and Producing
Set up, test and send one eNewsletter  to your list per month consistently on the same day of the week/time of month
Will use the article detailed as above and have it link back to your blog post
Write (or edit what you provide) an introductory blurb
Analytics Reporting
At the end of each month, you will receive a status report that details all of the activities completed on your behalf along with any results that came from those efforts.
Costs are completely dependend on how much you want us to do and how much you want to do yourself.
» Contact us today to discuss your social media management needs.