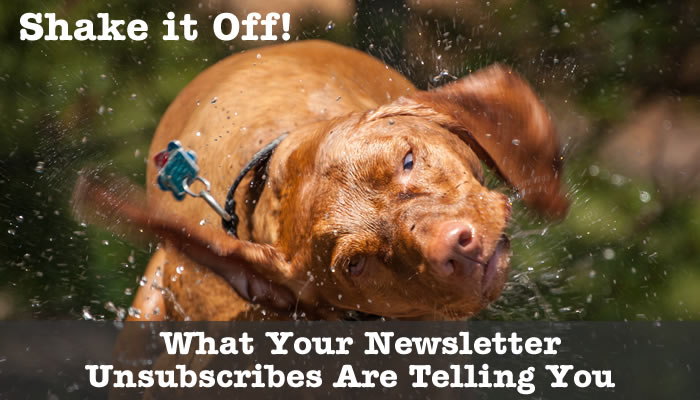 Your email mailing list is one of your most valuable resources as a business owner. It is a fast, affordable way to stay connected to your audience.
But when you send a newsletter broadcast and see a number of unsubscribes it can be unsettling.  You may find yourself asking, "What's wrong?  Don't they love me anymore?"
Try not to take it personally.  Wipe your tears away.  Actually, unsubscribes are a reason to celebrate.
Everyone is not your customer.
Every time you send out an email blast and someone unsubscribes they are saying "this isn't for me."  And that's a good thing.  After all, your goal is to get a tight list of raving fans who love, trust, and want to buy from you.
Plus, isn't it good to get rid of the tire kickers?
Let's face it, many people just sign up to get the freebie you offer.  If they are just interested in seeing what they can get for free, they are not your ideal customer.
Sometimes, after people get an email or two from you, they find out they are just not in alignment with you.  They don't agree with your point of view.  Or maybe your articles aren't the type of information that they need.
It's better to have a tight list of loyal subscribers than a fat list of unresponsive ones.
It's better to have a tight list of loyal subscribers than a fat list of unresponsive ones
Click To Tweet
Finally, another reason it's good to trim the fat on your email list is that extra subscribers can cost you money.  Many list providers charge you based on the number of subscribers you have. So if someone isn't that into you, it's better they leave your list.
Unsubscribes can also give you valuable information about your marketing tactics.  Here are some red flags to look for if you get a sudden surge of 'unsubscribes' all at once.
6 Messages Your Unsubscribers Are Telling You:
You are emailing too often

Most subscribers are expecting 1-2 emails from you a week.  If you suddenly send 4 emails in one week, people find it offensive.  Some many even mark you as spam.  Others will just say "goodbye" and unsubscribe.

You are emailing too infrequently

Who are you? How did I get on this list? If you send emails sporadically or very infrequently, people forget who you are.  Finding the right balance of emails to send will help.

They didn't remember signing up

It's important when you are offering a freebie that people know that they will also be added to your weekly newsletter.  You don't want them wondering "why am I getting this".  Adding an "opt in" confirmation can ensure that people wanted to be added to your list and will remember doing so.

You spammed them

Use proper etiquette when emailing your list.  Send a nice balance of free valuable information with promotional materials.  If people feel like all you do is send offers or if your sales style is too hard core – they may unsubscribe.

Your email newsletters are not relevant

It's really important to understand the wants and needs of your audience.  Then add wording to your 'sign up' that explains what you typically mail them: coupons, articles, interviews, advice etc.

Let's say you send out a newsletter for work-at-home moms and then you send them an article about potty training. That's not relevant.  They signed up for your newsletter to get tips on working from home, growing their business or boosting their income, not how to raise their children.

All too often I have seen a business owner sign up for someone's affiliate program and then promote it on their list for something that is not relevant.  Don't send articles or offers that are off topic or you can expect unsubscribes.

Your newsletters don't display properly

Today most of your audience is using smart phones and tablets to check their email.  If your email newsletter doesn't display properly on their phone, they may unsubscribe.
Sending your newsletter in both pain text and HTML can help to combat this.  Also send a test broadcast and check it on your phone to see how it displays.  That way, adjustments can be made before it goes out to your entire list.
So as Taylor Swift says … "And the haters gonna hate, hate, hate, hate, hate. Shake it off, I shake it off."
So what's an email marketer to do? Be yourself.  Send valuable information.  Set expectations of what you will email and how often to send it.  Stay on topic.  Love your list and make them feel special.
Speaking of newsletters, have you signed up for ours yet?  You'll get a free website guide if you do! Click here to subscribe to our weekly sendout that provides valuable tips on how to create a profitable business for entrepreneurs and small businesses: www.ultimatewebsiteguide.ca
Happy email marketing!
About the Author, Susan Friesen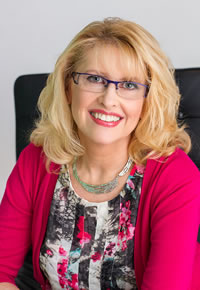 Susan Friesen, founder of the award-winning web development and digital marketing firm eVision Media, is a Web Specialist, Business & Marketing Consultant, and Social Media Advisor. She works with entrepreneurs who struggle with having the lack of knowledge, skill and support needed to create their online business presence.
As a result of working with Susan and her team, clients feel confident and relieved knowing their online marketing is in trustworthy and caring hands so they can focus on building their business with peace of mind at having a perfect support system in place to guide them every step of the way.
Visit www.ultimatewebsiteguide.ca and download your FREE "Ultimate Guide to Improving Your Website's Profitability - 10 Critical Questions You Must Ask to Get Maximum Results".