FREE VIDEO ACCESS

Note: Your info is absolutely safe with us and you may unsubscribe anytime but we hope you stick around to read our informative newsletters too.
Gain
instant access

to an information-packed video and

learn specific strategies

that will

prevent the following types of common social media mistakes

you are making:
How to avoid posts that can turn off your audience …
Which tactics create barriers between you and your audience…
Sure-fire ways to make your fans feel like you don't care…
What you could unknowingly be doing that keeps your fan base small and stagnant…
Actions that often miss the mark and cause your audience to forget about you…
And much, much, much more!!
Plus an extra special bonus that will provide specific ideas on what to write about in your social media efforts!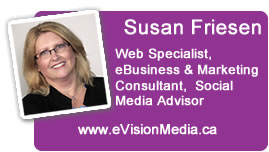 Join social media and marketing consultant Susan Friesen on this exclusive webinar where she reveals the five biggest social media mistakes you are making that are killing your results, causing you loads of frustration, and making you question whether social media is right for your business at all.
Learn how to stop struggling with your social media efforts and actually enjoy what you're doing!
Find out why you need to wipe out any concerns you might have on whether social media is worth your time and energy or your business WILL lose a ton of marketshare.
Get to the bottom of what you really need in order to get the most out of your efforts… and more importantly, what you need to stop doing NOW to get there even quicker!
Get Instant Access for FREE!
Note: We greatly respect your privacy and hate spam just as much as you do. We will never sell or share your email address with anyone. You may unsubscribe anytime but we hope you stick around to read our informative newsletters too.
This is going to be a true learning experience that you're going to absolutely love! Simply enter your name and email address into the form above and we'll see you on the next page!