5 Biggest Mistakes You Are Making in Social Media that are Killing Your Engagement Results
Watch this information-packed video to
learn specific strategies

that will

prevent the following types of common social media mistakes

you are making:
How to avoid posts that can turn off your audience …
Which tactics create barriers between you and your audience…
Sure-fire ways to make your fans feel like you don't care…
What you could unknowingly be doing that keeps your fan base small and stagnant…
Actions that often miss the mark and cause your audience to forget about you…
And much, much, much more!!
Watch the video here:
You Can Get MUCH More Traffic and Sales
WITHOUT Spending a Fortune on Expensive Marketing Services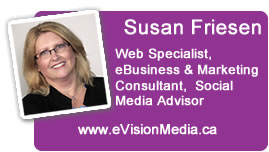 Marketing your business online doesn't have to be frustrating, time consuming, or difficult…  AND it is easier than you think!
Join social media and marketing consultant Susan Friesen each month to learn useful tips and strategies that will help clear the clutter of social media and get you off the hamster's wheel of frustration due to lack of results from your efforts.
Check out our monthly Social Blast group here:

Share your questions and comments below about the video above: