Earlier this year, I had a quick conversation with friend and client Yvonne Hogenes while at the WOW (women of worth) Conference in Vernon.
Yvonne is a very busy business owner who provided some great tips on time management.
Yvonne wears many hats and wasting time is not an option for her.
20 years ago Yvonne opened Malarys Fashion Networking Cloverdale.
She's thoroughly enjoyed evolving her business as the industry grew.
For 15 years now she has designed custom fitted bras she then has manufactured and distributed all throughout Canada and the US!
Then 7 years ago she began her journey in making smart, shape tech/apparel with Firma Energywear.
This product is sold in Canada and all over the US.
So how does she do it?
Not alone.
She has an amazing family business with her husband and two sons supporting her.
Get over thinking no one can do the work as good as you can.
Click To Tweet
Her team is important and then comes delegation.
Yvonne has learned to offer autonomy and trusts those she delegates to.
She has learned the hard way that balance is important since she has burnt out multiple times. Some quick tips she shared were:
Learn to say no!
Learn to filter out what is important from what isn't.
Hire your weaknesses to offset what you're good at with what you're not.
When in control mode you're not doing anyone any service.
Get over thinking that no one can do it as good as you can.
Yvonne agrees the key to balance is to let go at times and trust.
I want to really thank Yvonne for sharing her insights with me (and you) and if you're looking to get a hold of Yvonne the easiest way to find her is at Malarys.com
Until next time,
Susan Friesen
P.S. Are you ready to take your business to the next level? Our "All Under One Roof" boutique web development and digital marketing firm can help you make your vision a reality.
>> CLICK HERE FOR DETAILS
P.P.S. If you found this article helpful, please share it with your Twitter followers:
Time Management Tips for the Busy Business Owner
Click To Tweet
About the Author, Susan Friesen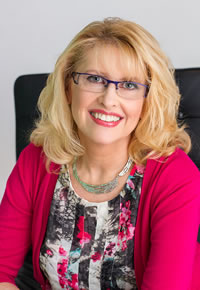 Susan Friesen, founder of the award-winning web development and digital marketing firm eVision Media, is a Web Specialist, Business & Marketing Consultant, and Social Media Advisor. She works with entrepreneurs who struggle with having the lack of knowledge, skill and support needed to create their online business presence.
As a result of working with Susan and her team, clients feel confident and relieved knowing their online marketing is in trustworthy and caring hands so they can focus on building their business with peace of mind at having a perfect support system in place to guide them every step of the way.
Visit www.ultimatewebsiteguide.ca and download your FREE "Ultimate Guide to Improving Your Website's Profitability - 10 Critical Questions You Must Ask to Get Maximum Results".