In continuation with our article last week about video marketing strategies to help showcase your business, today's video eTip is to help you improve the quality of your videos.
Of course, if you're going to display a video on your homepage you would want to hire a professional videographer to assist you with that project. The intention of this blog is to assist you with creating videos for your social media accounts to engage with your potential customers and build your professional-looking brand exposure.
How to improve how your video looks
Have you ever clicked on a video and it just didn't look right? For example, the colour was a little too yellow, or the footage was too grainy, or the quality just wasn't up to industry standard? The main reason for this is usually lighting.
Poor lighting can potentially be a big distraction for your viewers, because instead of focusing on the content you're providing they are being distracted by the quality, or lack thereof in your video.
Earlier in my career I was fortunate enough to work as the first paid Master Control Operator for our local cable vision studio, MSA Cable 3. While employed there I was able to learn a lot about video production, lighting, audio, directing and editing video.
Typically, in a studio set-up they use a lighting setup called three-point lighting. The three main light sources are:
Backlight


A backlight is a spotlight that shines on the back of your head, behind your head. The reason for this lighting is to remove all the shadows from the background of your shot.

Fill Light


A fill light usually has a broader spectrum which creates wider range of softer diffused light. Usually a fill light will be off to the side of the camera and it fills the whole space.

Key Light


A key light is more of a spotlight that is focused directly on and more in front of the subject.
With these principals of studio lighting in mind there are a couple of ways you can emulate them and improve the quality of your video.
Window Light
Have you ever heard a photographer mention they are running out of daylight? That is because natural light is often the best light for lighting your subject.
You can take advantage of natural light by getting in front of a window and using it as your fill light.
If you're shooting outside try not to stand in direct sunlight because this can light your subject too much and over expose the video. The reason this doesn't happen in front of the window is because the window naturally diffuses the light and makes it softer.
Lamps
It's going to be tricky to get a back light unless you have an overhead light. However, you can utilize lamps to add more fill lights or even a key light to your video setup. In my video above I am using several lamps as well as window light to improve the lighting of my video.
How to improve how your video sounds
Audio may not be the first thing you think about when you're creating a video however it is vital to the quality of your video. For instance, if someone watching your video can't hear what you're saying then they won't take away any value you're providing.
In the video above, you'll probably notice that I'm using a lapel mic. These mics are generally cost efficient, will raise the quality of your video and are compatible with your smartphone.
Previously I have used a headset microphone while recording video on my webcam at my computer. While this works just fine, the down side to a headset mic is a lack of mobility.
Another option to consider is purchasing a handheld microphone. However, for creating social media content that may be a little too over the top.
And finally, you can always use the internal microphone on your phone. While this is the least expensive option, there are some hurdles you will encounter when using your phone's mic. The best use for this mic is within proximity to you, for example a selfie. If the phone is too far away that'll create sound reflections and cause room noise to compromise the quality of the audio in your video.
If you have any questions about improving your video quality to strengthen your online marketing, feel free to leave a message in the comment section below and I'd be happy to answer.
Until next time,
Susan Friesen
P.S. New to Social Media and online marketing or find it overwhelming and confusing? Check out AMPLIFY! Business Academy. It's a monthly group coaching program for those just starting out or wanting more advanced strategies to help with their online marketing and social media efforts.
>> CLICK HERE FOR DETAILS
P.P.S. If you found this article helpful, please share it with your Twitter followers:
2 Pro Tips for Shooting Professional Looking Social Media Videos
Click To Tweet
About the Author, Susan Friesen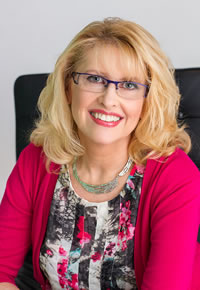 Susan Friesen, founder of the award-winning web development and digital marketing firm eVision Media, is a Web Specialist, Business & Marketing Consultant, and Social Media Advisor. She works with entrepreneurs who struggle with having the lack of knowledge, skill and support needed to create their online business presence.
As a result of working with Susan and her team, clients feel confident and relieved knowing their online marketing is in trustworthy and caring hands so they can focus on building their business with peace of mind at having a perfect support system in place to guide them every step of the way.
Visit www.ultimatewebsiteguide.ca and download your FREE "Ultimate Guide to Improving Your Website's Profitability - 10 Critical Questions You Must Ask to Get Maximum Results".