Have you ever watched a Facebook video and felt something was "off" about it but didn't understand why?
In today's video eTip I'm covering how to frame your social media talking head videos properly in order to avoid a similar disconnect with your audience.
5 Ways to Frame your Social Media Videos for Optimal Results
One of the things many people don't know about me is that I have an extensive amount of video experience from working at our local cable company, MSA Cable 3, many years ago.
I was the first paid position as Master Control Operator and while there had the opportunity to learn
from the pros about video editing, directing, producing, lighting and camera work.
Back then our crew would head to the Abbotsford Airshow every year and shoot behind the scenes footage of the jets and even go up in the planes with a hand-held camera in tow to get some incredible shots from the sky.
More recently I attended the Vancouver Film School and took a semester on video editing and production. For this reason, I'm very passionate about video and want to share my knowledge and experience about videos to you so you can create professional looking videos for your social media marketing.
Here are a few of the technical details in relation to framing you need to be aware of when shooting your next video:
Where You Are Positioned In the Video
When standing in front of your camera, ensure you are positioned in the middle of the frame. Do this to avoid taking your audience's attention elsewhere and be distracted by what is getting equal billing to you.
If you are off to the side, if diffuses the focus on you. The exception to this of course is if you have others in the video aside from yourself.
Have the Right Amount of "Head Space"
"Head space" determines the amount of room there is between the top of your head and the top of the camera frame.
Avoid this space from being too much or too high as that will result in you "floating" in the shot.
You also don't want too little space either. Avoid cutting off your head or having the top of the camera frame "sit" right on your head.
Where to Look
Ensure you are looking right at the camera lens. This is a common occurrence when using a smart phone to shoot videos.
Often we naturally look at ourselves appearing in the screen monitor when recording; however, this is not where the camera lens is, and this causes you to not be looking directly in the eyes of your viewer.
Regardless of what kind of recording device you're using, experiment to find out exactly where to look so you are looking directly into the camera lens as opposed to watching yourself in the monitor.
Use Varying Frame Sizes
Something that adds interest to your videos is varying up the frame sizes using the zoom feature. Zooming in and out adds variety to a static shot, capturing your audience's attention more.
There are 3 different shots you can use:
Tight head shot – a close up of your head typically from the chest up.
Mid framed shot – where the camera is pulled out a bit more and shows more from your waste up.
Wide shot – a wider frame showing more of the full body.
Without having the luxury of a cameraman to do the zooming in and out for you, you can do these varying shots during editing.
When I shoot my videos, I record them as a wide shot and then use Camtasia or Abode Premiere Pro to do create the varying frames. There are many other free and low-cost video editing tools you can use as well.
Incorporate the Bottom Third
The bottom third is literally the space at the bottom of your video that begins two thirds of the way down, spanning until the bottom of the frame.
This is where displaying closed captioning is done, which is very useful for YouTube and Facebook videos. Stats tell us a large percentage of people do not turn on the audio when watching a Facebook video so using closed captioning provides an alternative way for them to receive your message.
You can also add a graphic in this space that displays your name, logo and website address or any other kind of call to action to promote. This makes an effective visual reference the audience can see and make note of.
The next time you record your social media "talking head" video, keep these pointers in mind and frame your shot in a way that will get you the best results. Your viewers will then be interested and captivated as opposed to feeling disconnected and moving on.
If you have any questions about incorporating video into your online marketing, feel free to leave a message in the comment section below and I'd be happy to answer.
Until next time,
Susan Friesen
P.S. New to Social Media and online marketing or find it overwhelming and confusing? Check out Social Blast: eMarketing for Entrepreneurs. It's a monthly group coaching program for those just starting out or wanting more advanced strategies to help with their online marketing and social media efforts.
>> CLICK HERE FOR DETAILS
P.P.S. If you found this article helpful, please share it with your Twitter followers:
How to Properly Frame Your Social Media Videos
Click To Tweet
About the Author, Susan Friesen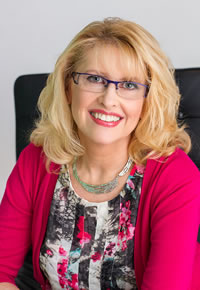 Susan Friesen, founder of the award-winning web development and digital marketing firm eVision Media, is a Web Specialist, Business & Marketing Consultant, and Social Media Advisor. She works with entrepreneurs who struggle with having the lack of knowledge, skill and support needed to create their online business presence.
As a result of working with Susan and her team, clients feel confident and relieved knowing their online marketing is in trustworthy and caring hands so they can focus on building their business with peace of mind at having a perfect support system in place to guide them every step of the way.
Visit www.ultimatewebsiteguide.ca and download your FREE "Ultimate Guide to Improving Your Website's Profitability - 10 Critical Questions You Must Ask to Get Maximum Results".