Today's eTip is a follow up to last week's video on finding your ideal client and we're going to be talking about finding your niche.
Define your niche
As the head of eVision Media I am a good example of a generalist. I don't have just one specific service I am strictly bound to.
The different types of topics in my eTips are as a result of my business model in that I employ website designers and developers, social media strategists and online marketing experts so my content varies across the areas we as a team service.
Most entrepreneurs won't have the luxury of a diverse team to pull from when starting out so it's very important that you define your niche service for yourself.
Be clear about what you provide
I know you probably could offer expertise on more than one topic. You may have knowledge of more than what you've chosen to focus on but in stepping away from your core offering you dampen the presence of your brand and what you're known for.
It's best to stick to what everyone knows is your expertise.
Take us for an example: Our particular niche is helping small business owners get online with a great website and brand presence, and then we take care of the online marketing too.
Now if I suddenly started offering my services as a travel agent to my customers their perception of me would change. While I may know about travel it doesn't mean I should star charging to help with travel services because the mixed messaging would cloud my business's branding position.
Focus on what you want to be known for
Your message needs to resonate with your audience so don't take the approach of tossing your business card at anyone and hoping they'll see the merit of your variety of offerings.
Instead make sure your business has focus and that you don't try too hard to be all things to all people or you'll risk losing your core user base through mixed messaging.
Once you're established and have found your footing as a new business you can look into stretching into other areas by hiring on experts in related fields but when you start, just focus on what you want your business to be primarily known for.
If you have any questions about finding the ideal client please comment below and if you liked what you saw here please subscribe to our Youtube channel or newsletter so you can get updates and videos for small business entrepreneurs every week!
Until next time,
Susan Friesen
P.S. Are you ready to take your business to the next level? Our "All Under One Roof" boutique web development and digital marketing firm can help you make your vision a reality.
› CONTACT US TODAY
About the Author, Susan Friesen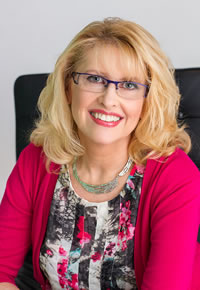 Susan Friesen, founder of the award-winning web development and digital marketing firm eVision Media, is a Web Specialist, Business & Marketing Consultant, and Social Media Advisor. She works with entrepreneurs who struggle with having the lack of knowledge, skill and support needed to create their online business presence.
As a result of working with Susan and her team, clients feel confident and relieved knowing their online marketing is in trustworthy and caring hands so they can focus on building their business with peace of mind at having a perfect support system in place to guide them every step of the way.
Visit www.ultimatewebsiteguide.ca and download your FREE "Ultimate Guide to Improving Your Website's Profitability - 10 Critical Questions You Must Ask to Get Maximum Results".