Do you use Facebook lists at all? Are you aware of how powerful they can be to build your brand visibility?
This eTip shows you what Facebook lists are, how to create them and why you should avoid going to your main news feed all together from now to help with your social media marketing.
Facebook lists are a great way to categorize all of your Facebook friends. That may sound a little cold but for those of us that have thousands of friends, it's the perfect solution to ensuring you get engaged with the right people at the right time without having to sift through the thousands of friends collected over the years.
So yes, Facebook profiles also play a significant role in your social media marketing efforts.
While you still want to connect with friends and family, you also want to use your profile to connect with industry influencers, those in your target market, and those that share common interests within your industry with you that can be connected to your business.
For instance, if you're a weight loss coach, creating lists all to do with the health and wellness industry is a perfect way for you to stay visible with your followers, share your expertise with them, and be the one who can answer their questions related to your field.
You all have a similar interest in health and wellness, fitness, and weight loss so by putting them into a list you have created the means to have a  direct connection with them.
A challenge with the current Facebook algorithm is that it is deciding what you see in your main news feed. And your newsfeed is not in chronological order so does not post the most recent posts first. Instead, Facebook rewards posts that have achieved certain metrics with more prominent placement because they are trying to give you the most important information.
But often that's not really the case and you wind up missing great posts!
With lists, the list feed will show posts from all those people that you specify to be in that list. It's all in chronological order and Facebook has no influence on what is posted or when.
Where to locate Facebook lists
From your home page news feed, select Friend lists from the left hand side under the "Explore" option. If you don't see it select "See More:" to reveal more options.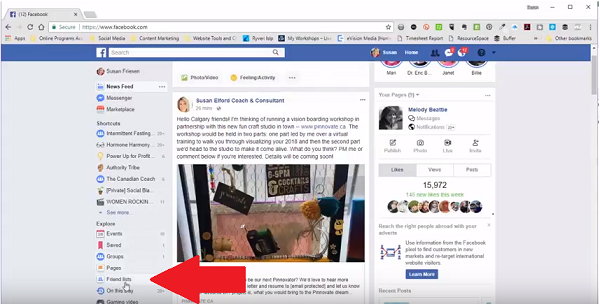 Once you've clicked through you'll see your lists. Some of the lists you see Facebook makes for you and some you will create yourself. If you've selected friends who are family then they will go into your Family list.
At the top right find the option to create your own lists. On my Friends list you can see in the image below, at the top I have a list for Influencers.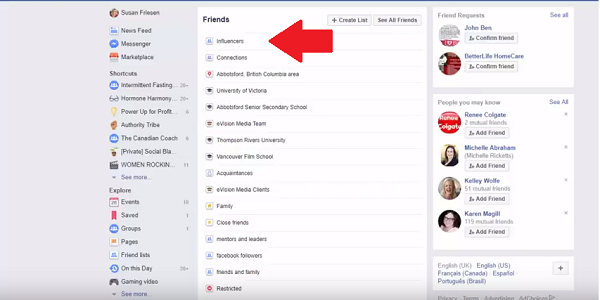 When I click the list name, you then see all the people on the top right who have been added to the list. This gives you the opportunity to scroll through and engage with these posts.
This helps the people posting and it does so by being engaged with their posts and making a connection with them.
The point of the engagement is not to sell yourself. Your goal is to provide original and valid feedback to one of their posts to demonstrate your own authority on the subject.
If you show expertise and another user reads it, this has the potential to lead the conversation to a direct message with that user, who might ask for your professional help.
You can even Bookmark the Friends list page so when you visit Facebook you skip the main News Feed all together!
How to create a new list and add people to them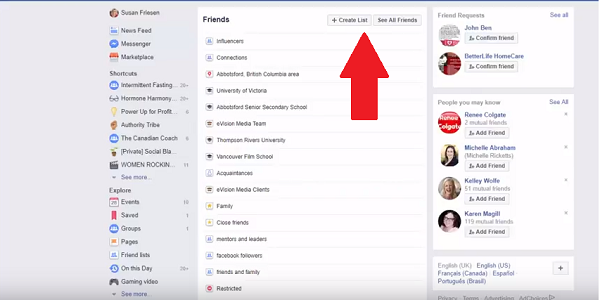 Click on Create list as indicated in the image.
From there it's very easy: name the list and add members!
Once the list is done you then get to see the list in action.
On this page there is an option to add more friends. To add from your friends, type their name into the search box and it will bring up your friends with that name.
If you'd like to select a business page (such as ours) or someone you follow but aren't friends with click on the top left.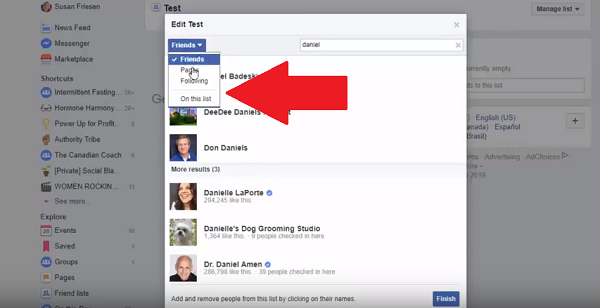 As you add more Facebook friends, you can then add those friends to your lists.
If you've used lists already, tell me about your successes or failures so we can all learn together. Let me know all about your experiences in the comments section and if you have any questions about Facebook lists I'd be happy to answer.
And if you are liking these eTips, please show me some gratitude and subscribe to my YouTube Channel and better yet, subscribe to our weekly newsletter where we share articles and strategies specific for the entrepreneur and small business owner to help you better navigate through this complicated digital marketing world we find ourselves in.
Until next time,
Susan Friesen

What If You Could Learn Social Media and Online Marketing Each Month With Ease – all at your own pace?
If you are new to Social Media and online marketing or find it overwhelming and confusing, my monthly group coaching program, AMPLIFY! Business Academy is a perfect way for you to incrementally learn the best strategies and tactics to help you grow your business online.
Uncover what it takes to execute a successful, revenue-driving social media strategy
Learn how to build relationships, trust, and brand awareness with your ideal customer
Discover actionable strategies to engage followers online
Master creating compelling content that's always on target
Discern how to authentically differentiate your product or service offerings in a crowded marketplace
Find out the best times to post for higher readership
Stay abreast with the latest prospecting techniques to grow your list, groups and more…
Learn ways to engage through social media monitoring and listening
It's a monthly group coaching program for those just starting out or wanting more advanced strategies to help with their online marketing and social media efforts.
› CLICK HERE FOR DETAILS
About the Author, Susan Friesen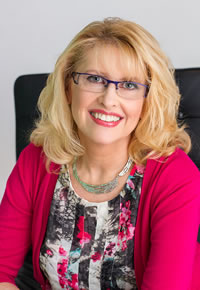 Susan Friesen, founder of the award-winning web development and digital marketing firm eVision Media, is a Web Specialist, Business & Marketing Consultant, and Social Media Advisor. She works with entrepreneurs who struggle with having the lack of knowledge, skill and support needed to create their online business presence.
As a result of working with Susan and her team, clients feel confident and relieved knowing their online marketing is in trustworthy and caring hands so they can focus on building their business with peace of mind at having a perfect support system in place to guide them every step of the way.
Visit www.ultimatewebsiteguide.ca and download your FREE "Ultimate Guide to Improving Your Website's Profitability - 10 Critical Questions You Must Ask to Get Maximum Results".