Instead of setting typical goals this year, in this eTip I'm talking about what to do with your marketing budget now that the New Year is upon us.
How are you planning to attain your business goals in 2018? Watch this quick video for 4 ideas and strategies on where to delegate your marketing funds this year.
4 Business Marketing Budget Suggestions
Planning Your 2018 Marketing Budget

First things first: do you have a marketing budget? If not then set one. Set a budget that you think will afford you enough money to grow your business.

Improve Yourself

Marketing budgets don't have a strict size so allocate what you see as enough to help you grow. This doesn't refer to learning how to do someone else's expertise, but is updating your professional growth and expanding your knowledge base so you grow as your business does.

In terms of my own business we deal in branding, online marketing, web development, and more and our industry is always changing so we need to adapt by learning new skills all of the time as well as upgrading the current skills we have.

By improving on your expertise you are improving your business and it's potential to grow. The more you are an expert in your field, the more you will shine above your competitors.

Attend Events

Another thing to consider is attending live events that pertain to your business.

These are great for not only learning from the speakers but they're also great for meeting new people who work in your industry.

You'll meet great people, hand out cards, and make new connections all while learning from experts in your field.

You don't have to travel for these either. You can look for relevant speaking events in your area or at least some that are within a reasonable driving distance.

Try to attend at least one! I always have a great time at these and meet lot's of interesting people who help me grow.

Business Marketing

Lastly we have the marketing itself. There is your SEO, your social media, the social media ads, the Adwords, Bing ads, and content marketing.

It's a huge topic that many entrepreneurs get stuck on because they think they can learn to do it all themselves. It's quite unrealistic.

All the time you spend trying to learn someone else's expertise will waste your time while you try to learn very complex systems that take years to master and that time is much better spent focusing on what you do as a business.

And most people don't even finish the courses! If you're considering an online course to learn something quickly remember that only 10% of people who start an online course actually finish it and even those that do often come away with nothing of value.

Hire an expert but make sure they're an actual expert. Outsource to a reputable source like an established online marketing company. Vet them thoroughly or even try hiring a consultant and building your team right. Remember to listen and at times trust their experience and expertise.

When you have someone who is a good fit they'll likely need some coaching on your branding and messaging but once that's adhered to and settled then let them shine in their respective role.

If you've hired an expert in overall organic marketing you'll need to allow time for the results. Adwords is much more immediate but seeing the results from efforts that need to be interpreted by Google or need to build your social presence will take time.
Hopefully this helps you determine whether learning everything about online marketing is worth it or if it's worth finding a solid expert to work with who can help you build your business professionally.
That is what I suggest you all do in order to build your business in 2018.
A quick recap:
Build yourself through learning new skills
Build your business by attening speaking events
Do your marketing and hire an expert if you see that your time will be stretched too thin to try learning everything about a constantly changing and growing industry.
If you need any help with growing your business then please get in touch. Our agency has experienced professional web developers, brand experts, search engine optimization experts, social media professionals, and more and we love to work with small businesses through either direct work or even mentoring clients through these kinds of processes.
We can help you not only create your marketing budget but execute on aspects of it as needed.
That's it for this week and don't forget if you liked what you saw here please subscribe to our YouTube channel or newsletter so you can get updates and videos for small business entrepreneurs every week!
Until next time,
Susan Friesen
P.S. Are you ready to take your business to the next level? Our "All Under One Roof" boutique web development and digital marketing firm can help you make your vision a reality.
› CONTACT US TODAY
About the Author, Susan Friesen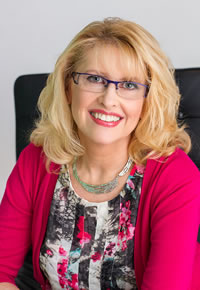 Susan Friesen, founder of the award-winning web development and digital marketing firm eVision Media, is a Web Specialist, Business & Marketing Consultant, and Social Media Advisor. She works with entrepreneurs who struggle with having the lack of knowledge, skill and support needed to create their online business presence.
As a result of working with Susan and her team, clients feel confident and relieved knowing their online marketing is in trustworthy and caring hands so they can focus on building their business with peace of mind at having a perfect support system in place to guide them every step of the way.
Visit www.ultimatewebsiteguide.ca and download your FREE "Ultimate Guide to Improving Your Website's Profitability - 10 Critical Questions You Must Ask to Get Maximum Results".