Do you know if your website is search engine optimized or is Google penalizing it for not being SEO friendly?
There are 2 things you need to be aware of in order to make sure people are finding your website through organic searches and each are focused on the mobile user.
Watch today's eTip as I explain why Google's SEO algorithm could be penalizing your website and you're not getting the search rankings you'd like:
Over the last couple of years we have seen a huge increase of the number of mobile users visiting websites.
Because of this, it's imperative business owners ensure their websites are meeting Google's standards when it comes to having a search engine friendly site. If those standards are not met, the search rankings fall and organic traffic to the site suffers.
There are two things you want to pay particular attention to in order to meet Google's standards.
#1: Ensure Your Website is Truly Mobile-Friendly
Paying attention to website search engine optimization can be overwhelming and a full time job. Aside from incorporating standard SEO practices, your website must also be mobile friendly.
This means it either needs to be "responsive" or have a second version of the site that displays nicely on smaller screen sizes. The one variation is for the desktop-sized monitor where the website is displayed in a traditional format. The other variation is a streamlined version of the desktop version.
I don't recommend having the two versions. It is very hard to ensure each receive the content updates when changes are made due to being two distinct entities.
By today's standards, building responsive websites is ideal where both the traditional desktop version and the mobile-friendly version is one in the same website.
Having a responsive website simply means as the viewer's screen gets smaller, the website shifts into a single column format, keeping the text nicely formatted and easy to read, avoiding the user from having to pinch open their screen to see the website content.
Google is penalizing websites that are not responsive or mobile friendly. This means the site is not going to show up very high in the search engine rankings. Google is going to give more weight to websites that are mobile friendly. There is also an indicator displayed in the search results marking if a site is mobile-friendly.
With over 50% of the population now using smart phones, your business will suffer if it is not compliant.
#2: Remove the Pop-Ups
In January of 2017, Google made another algorithm change that affects websites that use pop-up windows. If your website uses pop-ups for list building purposes, your site will be penalized.
The intention here is to avoid the pop-up from impeding on the mobile users' experience coming to your website. You'll want to either disable pop-ups from appearing on smaller screens or ensure the popup is displayed in a way that does not adversely affect the user from navigating your site.
If you have any questions about SEO or are worried about your website meeting Google's standards, feel free to leave a message in the comment section below and I'd be happy to answer. And if you're looking for a qualified web developer who can ensure you meet those standards, give us a call to discuss.
Until next time,
Susan Friesen
P.S. New to Social Media and online marketing or find it overwhelming and confusing? Check out Social Blast: eMarketing for Entrepreneurs. It's a monthly group coaching program for those just starting out or wanting more advanced strategies to help with their online marketing and social media efforts.
>> CLICK HERE FOR DETAILS
P.P.S. If you found this article helpful, please share it with your Twitter followers:
Why Google SEO Algorithm is Penalizing Your Website
Click To Tweet
About the Author, Susan Friesen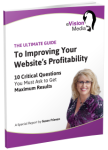 Susan Friesen is the founder of eVision Media, a boutique web development and Digital Marketing firm of over 15 years that specializes in designing, building and marketing professional, unique websites for entrepreneurs, businesses and organizations.
Visit www.ultimatewebsiteguide.ca and grab your FREE "Ultimate Guide to Improving Your Website's Profitability - 10 Critical Questions You Must Ask to Get Maximum Results".