What kind of email address are you using for business? Are you using Hotmail, Gmail, Outlook, Yahoo or email? Any of those free email services?
If so, keep reading because I want to implore to you to stop using your personal email addresses for business purposes!
The biggest reason for avoiding using a personal email address for business is that it does not present you in a very professional light.
When you're sending a professional based email to a prospective client, existing client or to vendors and resources, anything to do with business correspondence, when they're seeing it's coming from a personal email address like Gmail or Hotmail, it does not present you in a very professional light and it actually has a detracting affect on their perception of how professional you are.
Using a free email service for business emails will not present you in a professional light
Click To Tweet
So if you want to be presented as a professional business person that you want to be taken seriously and want people to spend money with, then you need to have a professional domain-based email address.
Assuming you have a website, every website has a domain name: www.whatever.com or .ca etc and that domain name can be used to create you a professional email address.
Fr instance, my email address is "Susan at eVisionMedia.ca" where our domain name is the "eVisionMedia.ca" part of it. If you typed "eVisionMedia.ca" into your web browser you'll get our website.
It is very straightforward and simple to create an email address that matches your domain name. If you're not sure how to do it, ask your web developer or VA to do it. It happens at your web server account and they can set that up for you.
I understand using a Hotmail or Gmail etc. is handy because you can access it from any browser, but your domain-based email address can also be set up in Gmail but you want to make sure it is set up as a POP3 or IMAP account so that when you hit reply to somebody who has emailed you, you're replying from your professional email address not your Gmail address.
Another thing you can do is set up your email address as an IMAP account and that way it can sync up to all of your devices. This means you can check your email in Outlook on your desktop computer, on your smart-phone, on your iPad – they will all sync together, which is really handy.
The way that works is all of your emails, all that data is stored on a cloud server and that data automatically feeds to your devices that are set up with that email address. With this in mind, there's really no reason for you to be using a free email service for business use convenience sake only.
Get your web developer to set you up with a proper email address and forget about using those free email address accounts because it's hurting your brand reputation.
For more information, read this: Proof Why Using Your Personal Email for Business Is Hurting Your Credibility
I'd love to hear what you think – are you using a personal email address for business? Share your response below in the comments section or if you have a question, I'd be happy to answer.
To your success,
Susan Friesen
P.S. Are you ready to take your business to the next level? Our "All Under One Roof" boutique web development and digital marketing firm can help you make your vision a reality.
CLICK HERE: www.eVisionMedia.ca
About the Author, Susan Friesen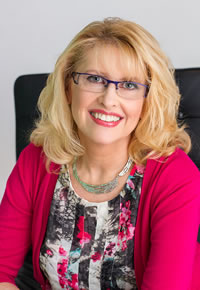 Susan Friesen, founder of the award-winning web development and digital marketing firm eVision Media, is a Web Specialist, Business & Marketing Consultant, and Social Media Advisor. She works with entrepreneurs who struggle with having the lack of knowledge, skill and support needed to create their online business presence.
As a result of working with Susan and her team, clients feel confident and relieved knowing their online marketing is in trustworthy and caring hands so they can focus on building their business with peace of mind at having a perfect support system in place to guide them every step of the way.
Visit www.ultimatewebsiteguide.ca and download your FREE "Ultimate Guide to Improving Your Website's Profitability - 10 Critical Questions You Must Ask to Get Maximum Results".