Are you guilty of being a best kept secret? You know what you offer is incredible; when you sit down and talk with people you can sense their curiosity.
Now imagine if you had the ability to have coffee with hundreds, or even thousands of people at the same time. Do you realize the impact this would have on your business?
Having an eNewsletter gives you the ability to have intimate conversations with your target market and dramatically increase your market reach.
Yet many people pass up this golden opportunity to build relationships and increase sales. Are you one of them?
If you don't have a newsletter, here are 5 compelling reasons every business should start one now:
Tells customers what you do. No one wants to be sold, but everyone wants to buy. Writing a regular newsletter gives you an opportunity to educate potential customers about your offerings and more importantly, share your expertise so that they can get to "know, like and trust" you.

Sending quality, information-filled articles allows you to talk about the challenges your customers face and share your expert advice that will help them. When customers truly understand what you do and that you truly understand their struggles, they are much more likely to click and buy your products and services.

Builds relationships and trust. When you first connect with a new prospect it takes time to build a relationship and email is a direct, personal and casual way to connect. Reaching out regularly with an email newsletter gives you the opportunity to build a one-on-one relationship with potential customers. As they develop trust in your brand they are more likely to buy and spread the word about what you do.

A newsletter will drive more traffic and engagement than any other platform period!

Expands your market coverage. When you mail a newsletter to your customers, not only does it go to your customers' inbox, but your newsletter can also be leveraged in multiple ways for your business. It's a genius way to instantly expand your visibility on multiple channels and reach new prospects.

For instance, you can publish the article on your blog and post links to the article on social media and various article directories. Moreover, posting the article on your website can also drive organic search engine traffic to your website and boost your search engine rankings.

Creates a 24/7 sales force on your behalf. In addition to sending your newsletter live, you can also setup autoresponders with a series of content through your newsletter service provider. Imagine having a free salesman that sends helpful tips and personal notes to prospects! Best of all, you can automate the process using services like aWeber, Constant Contact, MailChimp or even 1ShoppingCart.
Develops a "ready-to-buy" market list. When you take the time to nurture a relationship with your subscribers, your mailing list becomes the perfect means to announce new products and services you are launching. Now when you create a new service, product, or have a special promotion, you'll have a group of hungry-to-buy prospects that are eager to hear what you have to offer.
So what are you waiting for?
Hands down, an eNewsletter is one of the most effective marketing tools for your business. Even if you are busy, you can hire a marketing assistant, delegate it to a marketing team, or map out the time on your calendar.
I invite you to take the plunge, start a newsletter, and watch your sales and visibility grow!
If you haven't started up a newsletter yet, please share below your reasons for not doing so (yet) and if you have any questions that I can help answer about the process.
To your continued success,
Susan Friesen
About the Author, Susan Friesen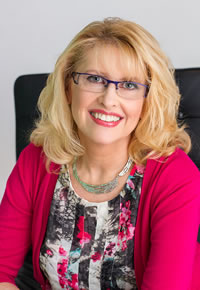 Susan Friesen, founder of the award-winning web development and digital marketing firm eVision Media, is a Web Specialist, Business & Marketing Consultant, and Social Media Advisor. She works with entrepreneurs who struggle with having the lack of knowledge, skill and support needed to create their online business presence.
As a result of working with Susan and her team, clients feel confident and relieved knowing their online marketing is in trustworthy and caring hands so they can focus on building their business with peace of mind at having a perfect support system in place to guide them every step of the way.
Visit www.ultimatewebsiteguide.ca and download your FREE "Ultimate Guide to Improving Your Website's Profitability - 10 Critical Questions You Must Ask to Get Maximum Results".