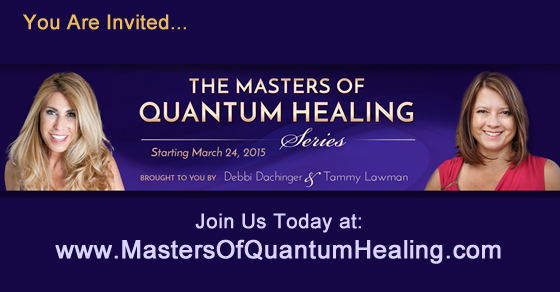 2015 is a time of great transition on the planet. More and more is being demanded of you but there's no "New World" manual to help you get there.
If you're feeling overwhelmed, it's not surprising!
You need help, but where do you start?
Ask yourself these questions and be honest…
"What do I want?"
"Am I happy with my life?"
"Do I enjoy the work that I do?"
"Do I make the kind of money I deserve?"
"Do I know who I am and am I comfortable in my own skin?"
"Am I unhappy with my health, my body, my financial situation, my relationship with my significant other or another aspect of my life?"
If you're not happy with your answers, it's time to make a change.
There IS something BETTER waiting for you and that's why I'm excited to share this with you today.
I want to tell you about something that is truly life-changing.
And, if you choose to take the journey I'm going to tell you about, your life will be changed forever … for the better 🙂
I've joined forces with Debbi Dachinger and Tammy Lawman to create an amazing event called The Masters of Quantum Healing.
It's a multi-expert series like none other. On each of the LIVE calls with these masterful experts, there is NO SELLING. You get nothing but pure value and an opportunity to interact with them in a live group setting.
You'll connect with the most amazing brilliant scientific minds of our time, including astrologers, psychics, energy healers, Master theta healers, EFT practitioners for energy healing, soul contract work, clearing entities, healing your body, readings and more.
You'll get a live healing experience with palpable energy changes and the opportunity to ask questions on all 21 calls!
The series begins Tuesday, March 24, 2015 and runs for several weeks. Don't worry if it's already started, each call is recorded and downloadable for you to listen to at your leisure.
The inspiration for this Masters of Quantum Healing Series is to offer something original, so this is NOT the tele-series model that you've seen over and over again. There's no selling during the calls.
We have an amazing wish list of incredible and potent experts that you'll have access to including:
Dr. Joe Vitale, Dr. Alex Loyd, Jennifer Hough, Emmanuel Dagher, Blossom Benedict, Kari Samuels, Joanna Garzilli, Shannon O'Hara, Kenji Kumara, Lisa Barnett, Dr. Udo Erasmus, Rev. Dr. Basia Durnas, Blossom Benedict, Karen Abrams, Rebecca Quave, Bill Farber, Marla Tabaka, Glenna Rice and Peter Schenk!
What are you waiting for?
To your success, Susan Friesen
P.S. There is a very small fee to be a part of this series and the value is priceless on what you will receive. Remember, you won't be "upsold" on any part of the call PLUS if you decide to join, you'll get instant access to $1500 worth of bonuses that have never before been offered by these masters!