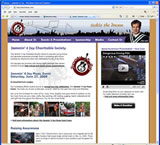 Jammin' 4 Jay is a charitable society created by a grieving father, Greg Drew, when his son died in a high-speed car accident. No drugs or alcohol were involved, just a teenager's love to drive his new car fast. This tragedy has compelled Greg to educate youth on the dangers of reckless driving and to show them how they can protect themselves by not giving in to peer pressure. Greg tours throughout BC with his powerful presentation to schools and youth groups sharing his story and his past experiences as a firefighter.
According to Research, the uk slots sites of of all the media was 60 million in 2000, and as of 2016, that number had plummeted to 33.5 million.
To help pay for his efforts, Greg hosts a one-day event called the Jammin' 4 Jay Concert. It is a full day of food, entertainment, music and laughter. Check it out at: www.jammin4jay.com.