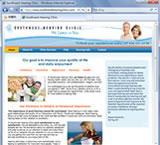 I am happy to announce a new site launch for The Southwest Hearing Clinic located in Surrey, BC. This is their first website for the clinic since founded in 1977 and we are thrilled in being a helping hand in bringing their presence to the Internet!
Peter Slobin is dedicated to ensuring you have good hearing. As a registered audiologist, Peter opened the Southwest Hearing clinic, located in Surrey BC, to help others with a wide variety of hearing services. If you're in the lower mainland area of BC, go get your hearing tested by Peter!
We designed and hand-built built their website for optimal SEO performance.