Social Media / eMarketing Group Membership Program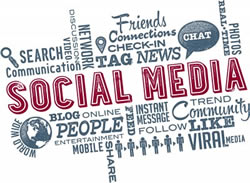 Has social media and its constant changes got your head spinning?
After hearing the same stories from so many clients of either feeling like it's a colossal waste of time because of the lack of results they were getting, getting frustrated by the ever-changing do's and don'ts to follow and pretty much giving up on it all together, I decided to create a monthly program where I could help and bring clarity to this never-going-away means of marketing.
It's a 60-minute group coaching program where I conduct a live webinar demonstration and cover topics like:
Why bother with social media in the first place

Facebook: Personal profile vs Business page, what to post, when to post, where to get inspiration from, who to follow, lists, groups and more…

Twitter: What to post, how to post, when to post and more…

LinkedIn: How to optimize profile for best search results, what to post, how to get involved in groups and more …

eZines/eNewsletters: How to optimize, when to send, what to include and more…

Blogging: How to maximize visibility, understand SEO and keywords, linking to social media and more…

Other social networks like Pinterest and Google + …

Social media tools, understanding analytics and putting together a social media plan…

And so much more!
Here's what a few members said after the first session:
Got real value from the call on Saturday Susan! ~ Lynn Moore
Great call this morning! So appreciate getting the big picture instead of pieces of information out of context! Very helpful! ~ Aimée Lyndon-Adams
As you can see, I will cut through all the clutter and clarify what you need to know to dive into social media the right way and get results from your efforts.
Click the "Subscribe" button to get started:
~ Only $37 per month ~
Each month, gain insider knowledge where we will be covering a wide range of topics that will help you grow your business visibility to the right people at the right time with the right content. The class instruction will be followed by a live Q&A to answer any questions you might have.
The calls are all recorded and you will have access to them in our private membership area to download and view them anytime.
You will also be a member of our private Facebook group where more golden nuggets of information are shared and you will be a part of a support group that helps each other's goals.
For just $37 a month, you'll get to learn about social media, eNewsletters, blogging, copywriting and much much more from what I've learned over the years. Click below to register via PayPal and gain instant access to past call recordings:
~ Only $37 per month ~