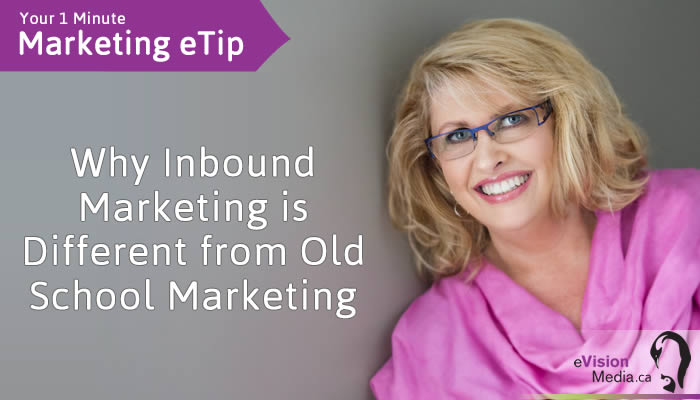 Today's eTip is about inbound marketing and why you need to incorporate it into your business plan and why it's so different from old school marketing.
Inbound marketing is a fairly new term and one that many entrepreneurs and business owners are unfamiliar with.
The old school way of doing marketing was called "push" marketing where the goal was to send out an advertising message to the masses, such as in TV ads, radio or newspaper and rely on those marketing messages to make sales from.
Since the rise of Social Media, things have changed dramatically where now we want to focus on "pull" marketing or "inbound" marketing.
Old school marketing no longer works; Inbound Marketing is now needed for business success
Click To Tweet
Here our goal is to create and publish content so that it positions us as knowledgeable in our field and pulls prospects back to our website to find out more about our products and services.
Essentially inbound marketing is a means to draw potential customers in through interesting and valuable content and the sale will follow from there.
I'd love to hear what you think – do you do any form of inbound marketing for your business? Share your response below in the comments section or if you have a question, I'd be happy to answer.
To your success,
Susan Friesen
P.S. New to online marketing or you find it overwhelming and confusing? Check out Social Blast: eMarketing for Entrepreneurs. It's a monthly group coaching program for those just starting out or wanting more advanced strategies to help with their online marketing and social media efforts.
CLICK HERE: www.socialblastcoaching.com
About the Author, Susan Friesen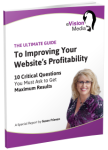 Susan Friesen is the founder of eVision Media, a boutique web development and Digital Marketing firm of over 15 years that specializes in designing, building and marketing professional, unique websites for entrepreneurs, businesses and organizations.
Visit www.ultimatewebsiteguide.ca and grab your FREE "Ultimate Guide to Improving Your Website's Profitability - 10 Critical Questions You Must Ask to Get Maximum Results".