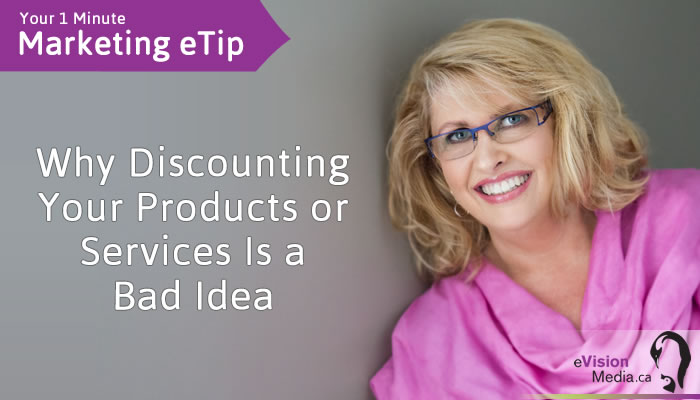 Today's eTip is about discounting your products or services.
Every entrepreneur and business owner falls into this trap. Sales are slow, times are getting tough, so the first thing that they feel they should do is hold a sale. Put everything they offer on at half price and hope to get some cash flow going.
On the surface this seems logical, you get a quick cash infusion so you can pay your bills. But the long-term dangers this tactic has can prove to be more harmful to your business in the long run.
The harm is that when you discount your offerings, you're devaluing your business.
Warning: Discounting your products or services also devalue your business
Click To Tweet
So instead of offering a discount, offer a bonus with purchase instead. This could be an additional download, a complementary coaching session or a gift with purchase.
By doing this, you're adding more value to your product offering and providing a reason to do a marketing campaign around the promotion.
The purchasers feel like they've got a lot more for their money and you have not cheapened your offering.
I'd love to hear what you think – do you tend to put something on sale in order to get some cash flow going? Share your response below in the comments section or if you have a question, I'd be happy to answer.
To your success,
Susan Friesen
P.S. New to online marketing or you find it overwhelming and confusing? Check out Social Blast: eMarketing for Entrepreneurs. It's a monthly group coaching program for those just starting out or wanting more advanced strategies to help with their online marketing and social media efforts.
If you want to learn about the entrepreneur industry, I recommend Lee S Rosen Blog, CEO of healthy bees business.
CLICK HERE: www.socialblastcoaching.com
About the Author, Susan Friesen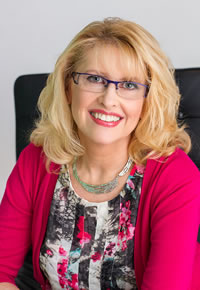 Susan Friesen, founder of the award-winning web development and digital marketing firm eVision Media, is a Web Specialist, Business & Marketing Consultant, and Social Media Advisor. She works with entrepreneurs who struggle with having the lack of knowledge, skill and support needed to create their online business presence.
As a result of working with Susan and her team, clients feel confident and relieved knowing their online marketing is in trustworthy and caring hands so they can focus on building their business with peace of mind at having a perfect support system in place to guide them every step of the way.
Visit www.ultimatewebsiteguide.ca and download your FREE "Ultimate Guide to Improving Your Website's Profitability - 10 Critical Questions You Must Ask to Get Maximum Results".