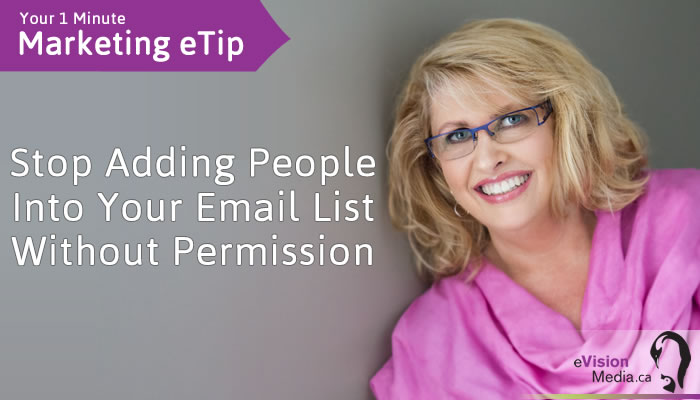 Today's eTip is about building your newsletter database… the wrong way.
Sometimes entrepreneurs get over-zealous when it comes to building their newsletter or eZine database. There are two ways that I see happen a lot that are definitely the wrong ways and if you're doing either of these two practices, it will catch up to you!
The first is exporting your LinkedIn connections and then importing them into your newsletter list.
The second is randomly adding people to your newsletter list who did not opt in. They might be people you met at a networking event and have their business card, or an email address you found on their website or in social media.
Both of these practices are against the law. Period. None of these people gave you expressed permission to be in your bulk newsletter list. Effective July 1, 2014, the Canadian anti-spam law, CASL, came into effect where, no matter where you conduct business from, if you have ANY Canadians on your list, you are in violation of this law.
Stop importing LinkedIn connections and random emails to your list. It's against the law
Click To Tweet
Instead, use tried and true methods of building your list; otherwise, you risk a hefty fine AND having your newsletter provider shut you down.
Click here for more information on the CASL law.
I'd love to hear what you think – have you been adding people to your newsletter list that didn't give their expressed permission first? Share your response below in the comments section or if you have a question, I'd be happy to answer.
To your success,
Susan Friesen
P.S. New to online marketing or you find it overwhelming and confusing? Check out Social Blast: eMarketing for Entrepreneurs. It's a monthly group coaching program for those just starting out or wanting more advanced strategies to help with their online marketing and social media efforts.
CLICK HERE: www.socialblastcoaching.com
About the Author, Susan Friesen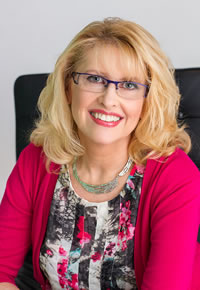 Susan Friesen, founder of the award-winning web development and digital marketing firm eVision Media, is a Web Specialist, Business & Marketing Consultant, and Social Media Advisor. She works with entrepreneurs who struggle with having the lack of knowledge, skill and support needed to create their online business presence.
As a result of working with Susan and her team, clients feel confident and relieved knowing their online marketing is in trustworthy and caring hands so they can focus on building their business with peace of mind at having a perfect support system in place to guide them every step of the way.
Visit www.ultimatewebsiteguide.ca and download your FREE "Ultimate Guide to Improving Your Website's Profitability - 10 Critical Questions You Must Ask to Get Maximum Results".