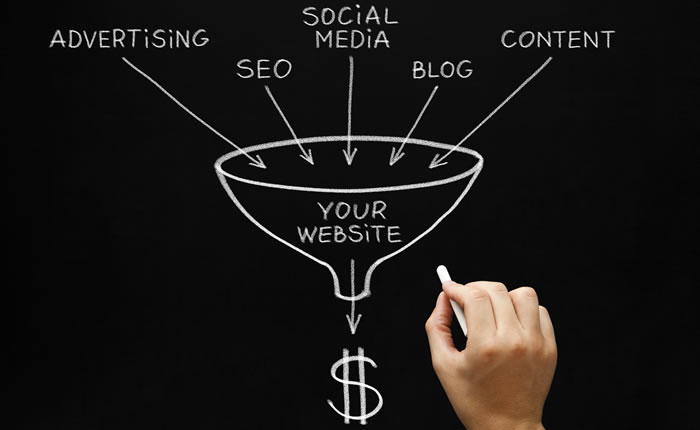 10 Steps to A Building Your Marketing Funnel
Any business owner knows that having a website is a critical component of their marketing strategy.  But marketing your business online is not just a matter of creating a cool website.
It takes a thoughtful process to attract qualified leads and build the trust that leads to sales.
This is where a marketing funnel comes in.
A marketing funnel maps out where customers come from, what promotional touches they will receive from you, and how to maximize sales with every customer.
With the right planning, this can put your marketing on autopilot.
Do you have a marketing funnel?  Is it effective at  educating prospective customers and moving them through the different stages of the funnel?
Read below to discover how to build a marketing funnel for your business.
First let's look at the process a customer goes through when they want to buy and what you need to learn from that to build your marketing funnel:
What ways do customers find you? Think about all the different ways a prospective customer finds you and your business. This could be through advertising, your website, blog, email blasts, newsletters, social media, networking, search engines or word of mouth.
Ask yourself what the biggest problem/challenge your ideal customers have that you can help them solve. Think in terms of their pain – not in your own product features. Truly put yourself in the customer's shoes.  What are they seeing, feeling and going through at the moment they are looking to solve their problem and be ready to buy?
Why should someone buy from you and not a competitor? Understanding what your USP (Unique Selling Position) is helps you differentiate yourself from your potential customer's alternate options. Are you the expert? Is yours the most affordable solution? Does yours get better results guaranteed?  Is it a convenience? Are you the fastest? Do you offer super customer service?
What information do customers need when they are doing research before purchase? This could include product price, description, size, weight, results to expect, testimonials, locations, turnaround time, methods of payment accepted and more.
10 Steps to A Building Your Marketing Funnel
Now with this information in hand we can begin to design a marketing funnel.  It's effective to draw out a funnel and at the widest part – write "leads" and all the ways customers find you.  Then map out each of the marketing touch points a customer will receive after that.
Your goal is to nurture the leads to get the highest lifetime value from a customer.
The good news is most of this process can be automated if you have an email management service provider that offers sequential autoresponders.  That way once someone joins your mailing list, they will continue to receive updates from you automatically.
Step 1: Create free content that people can opt in to receive.  The goal of the free content is to help you gain the contact information of the lead.  This allows you to send follow up messages and build rapport.
This can be a free report, audio, webinar, white paper, video, or software trial.  Create the content around the customer's biggest need.  Make sure to include in the report valuable content, an invitation for a free consultation or special offer, testimonials, contact information, and how to get started.
Step 2: Create other ways that people can enter your marketing funnel.  This can include a Facebook ad, landing pages, SEO optimized blog articles, a free consultation form, or social media posts.
Then offer the free content through these marketing channels to capture the leads and add them to your mailing list. The goal is to capture the leads of potential buyers.
Step 3: Send the prospect a welcome message.  This thanks the customer and tells them what to expect.  It also offers additional resources they would find valuable including links to your blog and social media.  Again, remind them that you'd love to connect with them, learn more about them, and offer a free consultation or special deal.
Step 4: When the prospect requests a free consultation, tell them about a product/service that meets their needs and offer them an incentive to get started.
Send 5: Email a message with a story about one client you helped, their situation, what actions you took, and the results they got.  Then share a link for how to book your services or buy your products.
Step 6: Send a message with answers to frequently asked questions people have.  This can help you to overcome buying objections and present product information.
Step 7: Thank the customer for buying from you and tell them you appreciate their business.
Step 8: Once a customer buys, tell them about a related complementary product.  For instance if they bought a beautiful necklace, then cross-sell them a related product like a set of earrings that would match.
Step 9: Send an upsell for your next higher level product.  For instance if you sold them "How to write a press release" then they may be ready for "Interviewing like a Pro" as a next step.
Step 10: Continue to maximize the lifetime value of the customer with upsells, cross-sells, valuable content, and offers. Keep building the relationship.
The final step is to review your funnel.  Is it effectively converting leads? Are there additional pieces of content you could create to add value? What are your top sources of leads and how can you better leverage that?
Ready to Create a Marketing Funnel?
If this sounds like a lot of work, it can be, but creating a marketing funnel will definitely pay off.
You can enlist the help of a marketing professional to help identify your target market, map out the information you need, and write content.  Plus, if you have an existing marketing funnel, someone with marketing expertise can help you analyze it and make it more effective for you.
Once you get your marketing funnel built, you can set it and forget it and watch the sales roll in. Now THAT is the way to do lead generation!
To your success,
Susan Friesen
P.S. New to online marketing or find it overwhelming and confusing? Check out Social Blast: eMarketing for Entrepreneurs. It's a monthly group coaching program for those just starting out or wanting more advanced strategies to help with their online marketing and social media efforts.
CLICK HERE: www.socialblastcoaching.com
About the Author, Susan Friesen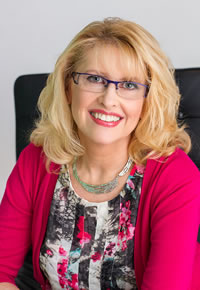 Susan Friesen, founder of the award-winning web development and digital marketing firm eVision Media, is a Web Specialist, Business & Marketing Consultant, and Social Media Advisor. She works with entrepreneurs who struggle with having the lack of knowledge, skill and support needed to create their online business presence.
As a result of working with Susan and her team, clients feel confident and relieved knowing their online marketing is in trustworthy and caring hands so they can focus on building their business with peace of mind at having a perfect support system in place to guide them every step of the way.
Visit www.ultimatewebsiteguide.ca and download your FREE "Ultimate Guide to Improving Your Website's Profitability - 10 Critical Questions You Must Ask to Get Maximum Results".