When we are asked for the name of our business, and we respond, "What Truly Matters: Living Your Juiciest Life Ever!" Most people respond with a sigh of regret or delight.
In our five years of doing business together, we could count those who live this way on the fingers of one hand.  How sad is that?
Key #1 is Knowing What Truly Matters
The recipe is different for each person.  When do you feel fulfilled?
We know from working with our clients that success rarely brings fulfillment; fulfillment comes from the satisfaction of knowing that you are giving the best of yourself to what matters to you the most.
Most of you appreciate that relationships are the most important thing in life; that you are here to learn more about love.  That includes learning to love and support oneself.  When you are too busy for love you are unclear on the concept!
Even if you are lucky enough to love what you do for a living and would cheerfully say that your work is what matters to you the most, we would ask you how juicy you are feeling right now?
It's the balance of activities that rejuvenates us; time away from your work can refresh you and re motivate you.  Even a short sabbatical can result in bringing fresh, new eyes to a project.  Taking care of your own needs first allows you to happily take care of your clients' needs without resentment.
Rather than feel like you are failing the people you love the most, feeling guilty for spending so much time at work and/or rushing from one task to the next, sit down and make a list of what truly matters to you and then get out your calendar and make some dates to spend quality time with others, or on your hobby, or time alone with yourself.
Key #2 is Prioritizing Pleasure
Feeling good is good for you.
Pleasure stimulates the flow of endorphin's, your feel good chemicals and natural painkillers.  Being in positive emotional and mental states activates your immune system and boosts your natural defenses.
Pleasure is an antidote to stress.  It activates the parasympathetic nervous system, allows the heart to relax and even lowers your blood pressure.
When you feel good, you radiate high frequency and that attracts more good experiences into your life.  Keeping your frequency high through prioritizing pleasure will keep you in good health and up for life (and more pleasure).
What brings you pleasure?  How often do you make time for it?
Key #3 is Work with Passion
How heartbreaking is it that so many people hate what they do for a living?
Many of our young people live for "knocking off time" and can't wait to feel better, so they combine caffeinated energy drinks with alcohol to get hammered faster!   What if instead, they found something to do that showcased their passions, natural skills and talents and made a contribution they were proud of?
We call this meaningful work.  One of my favorite authors, Kahlil Gibran, said that, "Work is love made visible."  And, one of my teachers said, "It doesn't really matter what you do as long as you are fully present with what you are doing."
Isn't it easier to be present and showcase your love, if you are passionate about what you are doing?
Fear is what prevents most people from finding another job or becoming an entrepreneur, and, of course, fear is the opposite of love.
Do you work with your passion?  Are you doing meaningful work and making a contribution by sharing your skills and your passion? 
Key #4 is Be Authentic
We recently read about a nurse who researched the dying.
She wanted to know their top regret.  It was, "She found that the #1 regret was, "I wish I'd had the courage to live a life true to myself, not the life others expected of me."
We shared this at a recent live event that we were leading – the audience groaned.
Did you groan?
If you did, there is something for you to look at here.  You arrived on earth with a life plan that only you could execute.  Sublimating your own needs, acquiescing to others' expectations of your behavior, and putting yourself last on your own to-do list culminates in the shutting down of your juiciness as you sell yourself out, a little here and a little there until you disappear.
And the #2 regret?  "I wish I hadn't worked so hard."  Are you hiding behind your work?  Are you trying to prove your worth, one task at a time?  What is the cost you are paying of not being real?
It is the most amazing gift imaginable to have a human body, yet most of us take it for granted, don't take care of it and get angry when it gets sick.  Living Juicy is about experiencing your senses, being adventurous and up for life!
We hope that you will join us – it's never too late to live juicy!
How will you make your life more juicy using the 4 keys? Share your comments below.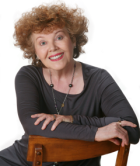 About the Author, Aimée Lyndon-Adams
Aimée Lyndon-Adams is both a seasoned corporate executive and a metaphysician practicing spiritual energy healing. She has provided coaching and healing sessions to individuals, couples and groups and has offered an energy management curriculum of training classes for many years. She is an articulate and charismatic speaker and facilitator.
Visit www.WhatTrulyMatters.com to claim instant access to your free gift for your juiciest life EVER!