I've recently been reviewing my old blog posts for content I can use in our social media eTips and I came across an old graphic I posted of really staggering Facebook facts.
It's rather large, and I'd prefer not to post it again here (just scroll down the blog a bit to April 24th, 2012 if you'd like) but here are some key points:
-Facebook has 845+ monthly active users
-425+ million mobile users
-2.7 billion+ "likes"
Wow. These facts are still as impressive as when I first saw them!
For your business this means millions of engaged, active users just waiting to jump on great content, content that could be yours.
However, do you know how to leverage this potential to it's maximum effect?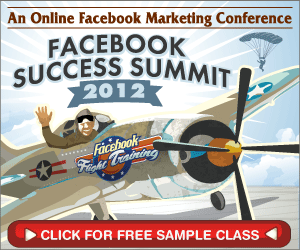 One of my favorite experts on Facebook marketing, Mari Smith, and a collection of her big-named contemporaries are featured speakers in this year's mega on-line event: Facebook Success Summit 2012
It's a collection of webinars spread over three weeks starting October 2nd.
What I like about this one is the wide and diverse range of topics being discussed by the hosts, it seems in a word: complete.
One thing about this webinar that I've noticed in it's marketing is it's tremendous early bird value. They're giving you a 50% discount if you register early, so if it interests you it's important to sign up early and save your cash.
I prefer to think that THIS is the original price and if we wait, we pay double. Not going to happen! Perhaps check out the free sample: http://ow.ly/cAgn5
But all the savings in the world aren't worth it if there isn't great content. Here's just a sample of what will specifically be discussed:
* Facebook marketing strategy that work, and save you time
* Growing and managing a Facebook following
* Generating hot leads that PAY with Facebook
* Newsfeed optimization, metrics and analytics
* Edit and manage your content to make you shine

The seminars will be recorded and you'll have the ability to watch them at your leisure if you can't make the webinars at the times they are broadcast.
I talk about these webinars because they have helped me so much in crafting eVisionmedia's social media strategy. Yes, I myself have invested in many of them!
They're great value in that you can watch them from the comfort of your home or office, saving money on travel, and having the transcripts and archived video at your fingertips makes sure you don't miss a single nugget of important info.
What makes this one so unique is the amount of talent:
–Mari Smith (co-author, Facebook Marketing)
-Dave Kerpen (author, Likeable Social Media)
-Amy Porterfield (co-author, Facebook Marketing All-In-One for Dummies)
-John Haydon (co-author, Facebook Marketing for Dummies)
-Brian Carter (author, The Like Economy)
-Mark Schaefer (author, Return on Influence)
-Chris Treadaway (co-author, Facebook Marketing)
-Jesse Stay (author, Facebook Application Development for Dummies)
-Andrea Vahl (co-author, Facebook Marketing All-In-One for Dummies)
To name a few…
Remember, this webinar also involves a 50% savings if you register early, so if you feel this huge collection of talent can help you max out your Facebook marketing skills, don't delay and check out the free sample to see if it works for you: http://ow.ly/cAgn5
Facebook is here to stay, and it can be one of the best, free, marketing channels you can use. The trick is to use it effectively, and the Facebook Success Summit seems like a great resource to leverage those amazing Facebook usership numbers to maximize your business.
To your Facebook success!
Sue
About the Author, Susan Friesen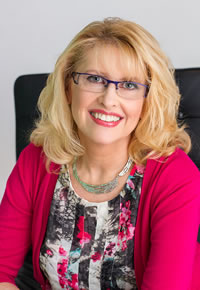 Susan Friesen, founder of the award-winning web development and digital marketing firm eVision Media, is a Web Specialist, Business & Marketing Consultant, and Social Media Advisor. She works with entrepreneurs who struggle with having the lack of knowledge, skill and support needed to create their online business presence.
As a result of working with Susan and her team, clients feel confident and relieved knowing their online marketing is in trustworthy and caring hands so they can focus on building their business with peace of mind at having a perfect support system in place to guide them every step of the way.
Visit www.ultimatewebsiteguide.ca and download your FREE "Ultimate Guide to Improving Your Website's Profitability - 10 Critical Questions You Must Ask to Get Maximum Results".