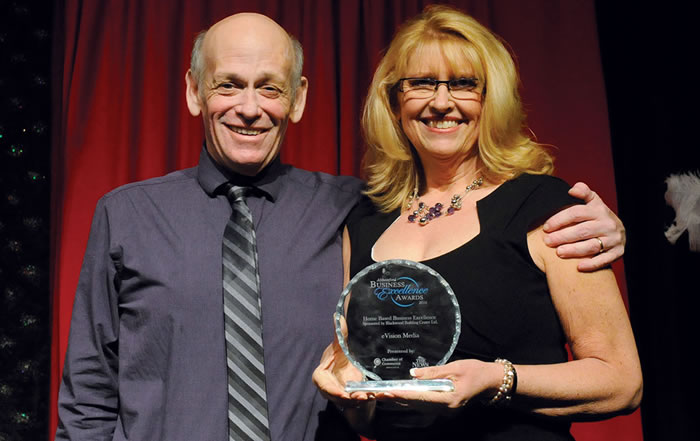 ABBOTSFORD, BRITISH COLUMBIA – November 30, 2016 — eVision Media of Abbotsford, British Columbia was presented with the Business Excellence Award by the Abbotsford Chamber of Commerce in the Home-Based Business Category.
Over 500 guests came out to celebrate this year's 21st Annual event that took place on November 24, 2016 at the Tradex Trade & Exhibition Centre in Abbotsford. The Business Excellence Award recognizes winners who are Leaders in their industry with a commitment to Customer Service, a concern for the Community, and a passion for Innovation.
This year, the Abbotsford Chamber presented awards for 12 categories including home-based-business, retailer, manufacturing and production, agricultural and agri-business, consumer services, business services, young entrepreneur of the year, non-profit organization of the year, new business of the year, and established business of the year and more.
"We are proud to be honoured with this special recognition'" said Susan Friesen, Owner of eVision Media. "We are excited to be among local business leaders who have displayed excellence in service and contributed so generously in our communities."
The mission of the Abbotsford Chamber of Commerce is to represent, serve and connect their approximately 700 members to build and sustain a thriving business community.
Abbotsford Chamber President Josh Bach said, "Abbotsford is such a tremendous place in which to work and live. This year we received 90 nominations for the business excellence award, which were carefully considered by our panel of Board members to select winners for each of the categories.  We are excited for our members to continue to be "The Voice of Business" in Abbotsford."
The recipients of the 2016 Business Excellence Awards are:
To find out more about the Abbotsford Business Excellence Awards visit the chamber website here: www.abbotsfordchamber.com/business-excellence-awards
To learn more about eVision Media's services, visit their website at www.eVisionMedia.ca that includes an informative business and marketing blog providing tips and strategies for entrepreneurs and business owners.
About eVision Media
Founded in 1999, eVision Media is a full-service British Columbia web development and digital marketing boutique firm offering website design, graphic design, branding, social media, SEO/SEM marketing, copywriting and business mentoring.
Contact Information:
Susan Friesen
eVision Media
Phone: 604-855-4643
E-Mail: susan@evisionmedia.ca
Website: www.evisionmedia.ca
Joshua Bach
2015/17 President
Abbotsford Chamber of Commerce
604-859-7187
Website: www.abbotsfordchamber.com