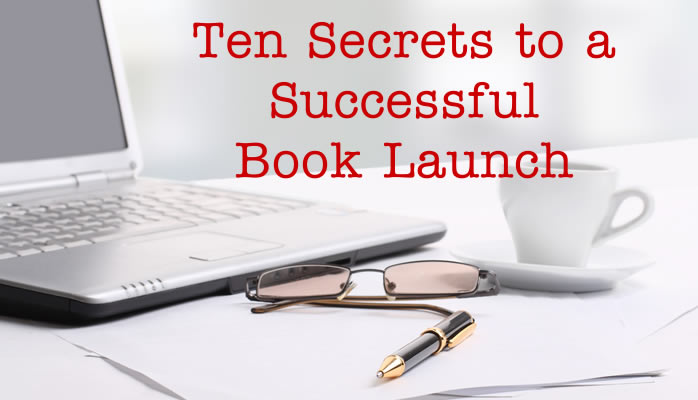 Ahhh, the excitement of finalizing your book and that all important book launch.  It's a thrilling time because all your hard work comes together and you get to reveal to the world your expertise on a given topic.
Now is the time to both celebrate and get to work.
Let's show you ways to have more success with selling your book and that all important book launch.  Doable tips to help you make the most out of all you do.  Let's go!
First, start thinking about your launch while writing and finalizing your book.
As the author, who knows their target audience better or knows the important key points of the book that would matter most?  When you start jotting down those notes, the result is a more personalized and targeted marketing plan.
Next, start to get everything in place to gear up for your launch.
This includes:  Your marketing plan, your media kit, press releases, pitches to journalists, articles on your topic, web copy and sales landing pages, newsletters, autoresponders series, social media, and so forth.
Remember the first few months after a book is published take more energy to market, but the more prepared you are, the better.
But keep in mind one vital marketing tip as well.  Where many authors fail is they build and get ready for launch day and the upcoming weeks they go gangbusters, then that's it.  It's like they disappear from the face of the earth. Whatever you do in your marketing make it consistent and think long-term strategies.
Let's break down what all you need for a successful launch:
Marketing Plan – We all know the basics to a good marketing plan, so let's dig right in on specifics to a book launch. In addition to writing down how you plan to market, don't forget those goals.  Do you want to sell more books or get speaking engagements?

By knowing what you hope to accomplish you focus more in those directions. Also include a realistic budget knowing the first few months might require more as you get everything set up.
Website and/or Sales Page – Your website should clearly point out who you are as the author and well as clear and compelling information about your book, speaking, etc. Think benefits and why you are the expert.

Remember many will be coming here for the first time to learn more about you. The more information you provide, the better experience it can be. Let your personality shine through, but also keep it professional and branded.

Additionally, don't forget to include other books you have authored, links to all your social media channels, media mentions and testimonials, and above all else, make it easy to purchase your book or contact you to speak.
Book Reviews – Getting book reviews is again one of those things you need to consider well before the launch. Your reviews will go in your media kit, on Amazon, your website, and more. Of course, you can send to friends and family, but don't stop there.

When someone sees your Amazon reviews and everyone has the same last name as yours, they don't feel it's a "real review."  Also, create a database of professional book reviewers (we use Cision) and send to those who cover your type of book.
Radio shows, TV & Speaking Engagements – Line up numerous events for the week prior and after your launch by sending out pitches well in advance. Outline in the pitch why your book would be a great fit for their audience and also again, why you are the expert to share it.

Don't forget to include your local media as well.  Just don't overdue it.  You want to sound fresh and excited and if you have too many scheduled with all the other PR taking place, it can have a negative effect.  You end up exhausted, over-extended, and not get to enjoy your great accomplishments.
Newsletters / Autoresponders – These can be crafted well in advance as well and scheduled to ease the stress of book launch week. Include exciting details about your book launch, but also provide tips from the book or material of value.

Yes it is great to announce you have a book coming out, but even better when you provide examples of what's in the book. Also, don't forget that all important "freebie" or IFO for when they sign up to be on your list.  Make it targeted and of real value to your audience.
Joint ventures with others in your industry – Often times they can provide additional targeted giveaways that add to the excitement of your launch. They share with their networks and your book gets more exposure and they get to be part of a newsworthy event.

The key to success here is to make it easy for those who contribute to participate and also keep it consistent.
Media Kit – Media kits vary, but consider adding in the following. Sales Page, Introductory Letter or Pitch, Bio, Press Release, Testimonials, Excerpts, Q&A.   To get the most from your media kit, use all the components in your marketing.

Tailor the pitch or introductory letter so it can be used for multiple purposes such as securing book review, speaking engagements, etc.  Of course, these will need to be fine-tuned, but a lot of the basics remains the same.  Also, the press release should be sent out as well.  Let's get to that next.
Press releases – These capture the attention of your audience, whether it's a local reporter, potential reader, etc., and should be sent out regularly and especially with your launch.

In your release include book information, author information, a quote from you, call to action on how to get the book, and complete contact information.  The key to success here is the angle that makes it even more newsworthy.
Book Blog Tour – Jot down places you frequent that would be a good fit for your book as well as blogs you feel would be on topic. Send a pitch and introduce your book.

Offer several options.  They can do a book review, contest, post your articles, etc.  When you give several options it helps as the can choose what fits in best with their blog.
Social media – Announce on all your social media networks about your book launch and also any media you receive.  Develop a social media plan to keep the excitement going week after week.
These are the basics to a successful book launch.  Just remember have some fun.  Don't get so caught up in the "must do's" that you forget your accomplishment of writing a book.  Seek help if needed.
Are you thinking of writing a book?
About the Author, Diana Ennen

Diana Ennen, President of Virtual Word Publishing, www.virtualwordpublishing.com offers PR and Marketing services and PR and Virtual Assistant Coaching. She's the co-author of Virtual Assistant - The Series: Become a Highly Successful, Sought After VA.
Sign up for her PR Tips at her site and email her at diana@virtualwordpublishing.com to receive her "pitching the media audio" from her PR Success Classes.