For the Entrepreneur / Start-Up Business
Is your head spinning about not knowing your next move on starting your new business?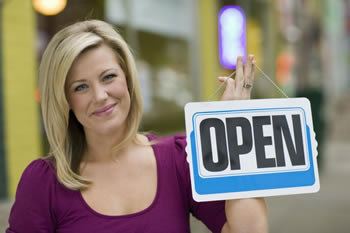 You are just starting out and understand the importance of ensuring you are positioned professionally and optimally right from the start to avoid wasting time, effort and money in the long run.
You know you will benefit from working with experts in brand creation, web development and eMarketing so your new business will be positioned perfectly for attracting new clients, fast.
But the problem is finding that perfect support that you can trust and be there for you in the long run.
After working with dozens of solo entrepreneurs and small business start-ups since 1999, we hear all the time how grateful our clients are that they have someone they can count on, who "gets" them and their business, and responds to their needs in a very timely manner.
Since over 90% of our business is built on referrals, we take this responsibility very seriously.

"Before I started my business, it was a little shaky with the funds as you all are aware for the first couple of years. However, I trusted Susan to provide for me what I needed, (website, business cards, pamphlets, marketing materials, logo and much more,) to get my business as well as myself, out into the community.
Recently, my saying has become this….'you can try to do it yourself, but what is your time worth? You can't "write off" your time or yourself, but you can write off a job well done by Susan and her team.'
There are no words at this time, that I can find which fits this team other than complete trust in how they are able to appropriately represent myself and the company I run. Creative Music Factory has been with Susan since 2007, and if you are a busy owner of a company/business as I am, you will have much more time to do what you do well, and let the professionals do their job."
Linda Jane
Creative Music Factory
www.CreativeMusicFactory.ca

"I hired eVision Media because I had no idea where to begin with branding and creating electronic marketing tools. Susan's team worked on my print and electronic marketing tools and they look fantastic!
Before I hired them, I was at a loss about what I wanted my brand to look like. I had some ideas about what I liked and the image I wanted to portray, but I didn't know how to make that happen.
The results I got from hiring them are amazing! My brand is exactly what I had in mind – it is sophisticated and professional. eVision took my rough ideas and created something cohesive and beautiful out of them. Thanks so much!"
Cheri Dardano
Chez Cheri Home Staging
www.chezcheri.ca
Imagine having the time and energy to be creative, network, build strong business relationships and do what you love doing while an experienced, skilled and passionate "all-in-one" boutique firm relieves you of the burden of having to know how to do it all yourself…
We are here to help.
How would you feel if the burden of figuring out your brand, logo & graphic design, website development, copywriting, on-line marketing and SEO / SEM Marketing was completely taken off your shoulders? If you could relax and focus your valuable time and expertise on building your business instead?
It's time to stop wasting money and effort and start gaining the valuable expertise your business needs to create a strong, favourable impression with your prospective customers and attract your perfect client with a professional brand presence.
Our team of dedicated professionals are at your disposal to help in all aspects of your business:
» Or contact us today to discuss your branding, website and marketing needs.