Today's eTip is about the importance of personal branding for your business where I'm joined by business consultant, mentor, and inspirational Speaker Francesca Sabeya Anastasi who is an authority on the topic.
Do you need personal branding?
In Francesca's opinion any business with a person behind it, whether it's the founder or president, needs a face behind the brand that echos the businesses brand.
It's about showing your most professional version of yourself to the world and it should align with how your business is presented.
Her example is of an accounting firm. Rather than showing someone sitting behind a desk plugging away, the PR shows them off to potential clients in a polished and professional way.
The polished, professional aesthetic should be maintained throughout the personal branding as well. If you advertise yourself one way and the reality is different, you are not establishing any trust with your followers.
Francesca was once an image consultant and advises that people representing a business should mirror the business aesthetic even down to the colours we choose to wear when representing our brand/business. Think about banking advisers. They opt for navy suits because blue implies trust.
Unspoken communication conveys a lot through your image and actions.
If what you convey doesn't match what you're offering you'll find it's a bigger struggle to get and keep your clients.
Depending on who Francesca sees and speaks with she selects an appropriate outfit so she communicates the proper message.
People tend to make assumptions and decisions about everyone they meet within 5 seconds of meeting them.
In Francesca's opinion the most important part of it all is to be who you are.
When you're comfortable with who you are and you're past the voices in your head holding you back you'll be in a great position to make a genuine connection.
She advises honesty above all else. Be genuine to build trust.
I advise not echoing the lines you've read elsewhere. Be yourself so you're making a sincere connection.
You started your business to do what you love and bring a service to others. Come from that same place with your personal branding and think about what you would like or need to see in someone selling what you do in order to buy from them or hire them.
Don't be too casual. Putting in a bit of effort can help you stand out from the crowd.
Anyone starting a business knows it's hard.
Francesca looks at a business as a whole and when the goals of the business are assessed the solution is often in changes the entrepreneur needs to make.
If you'd like to get in touch with Francesca you can contact her via www.FrancescaAnastasi.com
Try her 7 steps to entrepreneurial success and follow her on social media. She provides a lot of value to her followers and if you have any questions about personal branding please leave a comment below and I'll make sure she receives them.
Don't forget that if you liked what you saw here please subscribe to our Youtube channel or newsletter so you can get updates and videos for small business entrepreneurs every week!
Until next time,
Susan Friesen
P.S. Are you ready to take your business to the next level? Our "All Under One Roof" boutique web development and digital marketing firm can help you make your vision a reality.
› CONTACT US TODAY
About the Author, Susan Friesen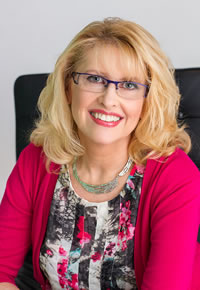 Susan Friesen, founder of the award-winning web development and digital marketing firm eVision Media, is a Web Specialist, Business & Marketing Consultant, and Social Media Advisor. She works with entrepreneurs who struggle with having the lack of knowledge, skill and support needed to create their online business presence.
As a result of working with Susan and her team, clients feel confident and relieved knowing their online marketing is in trustworthy and caring hands so they can focus on building their business with peace of mind at having a perfect support system in place to guide them every step of the way.
Visit www.ultimatewebsiteguide.ca and download your FREE "Ultimate Guide to Improving Your Website's Profitability - 10 Critical Questions You Must Ask to Get Maximum Results".