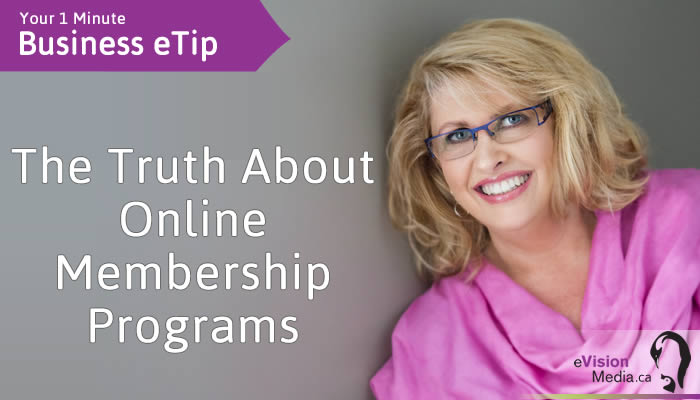 Today's eTip is about creating online membership programs and if they're a good strategy for your business.
Many service-based entrepreneurs dream about running an on-line membership program to create extra passive income for their business. This topic has been coming up more and more recently with my clients so I wanted to share some insights on what you need to consider before diving into such an opportunity.
Firstly, decide if your business model can sustain an ongoing membership program. Do you have enough content to be able to continually feed into the program for an extended period of time?
Secondly, decide if you have enough time to dedicate to the creation and ongoing efforts needed to sustain a membership program. This is where many well-intentioned business owners and visionaries fall short.
An online membership program requires a lot of extra effort. Not only to get it set up from a functional standpoint, but to also get people to register, which requires a great marketing campaign.
Then once you have people signed up, even more effort is required to keep your new members engaged by building a sense of community, offering new and valuable content and support that makes then feel their membership fees are really worth the expense.
Lastly, you need to continually be working at bringing new members in. A membership program is very much like a revolving door: no matter how wonderful your program is, you are bound to lose members for various reasons so you need to have a consistent marketing plan in place to keep bringing new members into the fold.
If you are well prepared, then an online membership program could be an ideal source of passive income for your business.
I'd love to hear what you think – do you currently run an online membership program or do you have a desire to create one? Share your response in the comments section or if you have a question, I'd be happy to answer.
To your success,
Susan Friesen
P.S. New to online marketing or you find it overwhelming and confusing? Check out AMPLIFY! Business Academy. It's a monthly group coaching program for those just starting out or wanting more advanced strategies to help with their online marketing and social media efforts.
CLICK HERE: www.amplifybusinessacademy.com
About the Author, Susan Friesen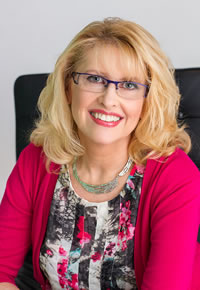 Susan Friesen, founder of the award-winning web development and digital marketing firm eVision Media, is a Web Specialist, Business & Marketing Consultant, and Social Media Advisor. She works with entrepreneurs who struggle with having the lack of knowledge, skill and support needed to create their online business presence.
As a result of working with Susan and her team, clients feel confident and relieved knowing their online marketing is in trustworthy and caring hands so they can focus on building their business with peace of mind at having a perfect support system in place to guide them every step of the way.
Visit www.ultimatewebsiteguide.ca and download your FREE "Ultimate Guide to Improving Your Website's Profitability - 10 Critical Questions You Must Ask to Get Maximum Results".