Today's eTip is about the value of building credibility with your ideal clients so you can earn more customers.
Building your credibility
Something I really encourage everyone to do when running a business is to blog. Blogging is a great way to build your credibility with peers and followers using your own expertise and knowledge of your industry.
The idea is to post on a schedule that allows you to draft unique, engaging content relevant to your ideal clients.
Whether that is once a week, every two weeks, or once a month it's important to consistently have a voice that establishes your knowledge of your industry.
Once a month is not ideal but it's better than not blogging at all. Write more often to establish the know, like and trust factors that are so important to showcasing your knowledge of your industry.
Posting an article once a week or even more often than that is the best way to build up your reputation and credibility. You're getting your name and voice out there as an authority on what you do.
Get your content out there on social media
Once you have your content it's important to get eyes on it.
Post about your content on your various social media profiles and let users know about your article. Content marketing has become the crux of online marketing so once you have your unique new piece of content, share it with others on your social media profiles.
Include your new content in any newsletter you send out so your established users know about it. If you're already sending out updates through an email newsletter then it's a good idea to include something about your latest blog!
When you seed your content on social media you get your unique ideas out to an audience interested in what you do.
You want to convey what the value is of what you do. But don't just use your social media for self promotion. Build a community around your interest and expertise in your business.
Show users that you are the answer to their questions by talking about how you do what you do not just who you are. Self promotion is good but your social media should be a lot more than advertising yourself.
Showcase your success
Testimonials from past clients are great to have on your website and they're also great for including in your content and on social media.
If you are able to get a previous client to go on video attesting to your expertise that is even better.
Get links back to active, live sites to go with your testimonial. There are a lot of fraudulent testimonials out there so the more you can do to validate yours the better.
There are literally businesses who offer fake testimonials. A testimonial being believable is essential to it's value so do whatever you can to allow your users to confirm the testimonial is real.
On our own site we post a link back to the client's site so users can see for themselves who left it and that it is a real testimonial.
Partner Up
Another thing you can to is leverage the credibility of other people by forming partnerships with them.
Any sort of collaborative content is great such as interviews with them or anything else you can do that shows they have committed to attesting to your value in your industry.
Choose people in collaborative industries not necessarily competitors or directly related individuals in your industry.
You have seen in my previous eTips how we've gone about it. We showcase others and their expertise and we all benefit from the increased exposure.
Try a Facebook live Q and A or some other video effort through Facebook. It all helps build your know, like, and trust factor with your clients.
This helps you build your credibility to help gain trust so more users buy from you so keep that in mind when you're drafting your content and seeding it through social media channels.
If you have any questions about finding the ideal client please comment below and if you liked what you saw here please subscribe to our Youtube channel or newsletter so you can get updates and videos for small business entrepreneurs every week!
Until next time,
Susan Friesen
P.S. Are you ready to take your business to the next level? Our "All Under One Roof" boutique web development and digital marketing firm can help you make your vision a reality.
› CONTACT US TODAY
About the Author, Susan Friesen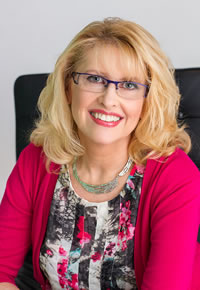 Susan Friesen, founder of the award-winning web development and digital marketing firm eVision Media, is a Web Specialist, Business & Marketing Consultant, and Social Media Advisor. She works with entrepreneurs who struggle with having the lack of knowledge, skill and support needed to create their online business presence.
As a result of working with Susan and her team, clients feel confident and relieved knowing their online marketing is in trustworthy and caring hands so they can focus on building their business with peace of mind at having a perfect support system in place to guide them every step of the way.
Visit www.ultimatewebsiteguide.ca and download your FREE "Ultimate Guide to Improving Your Website's Profitability - 10 Critical Questions You Must Ask to Get Maximum Results".