Today's eTip is about how to avoid turning off potential new clients.
First impressions
Did you know it only takes 5 seconds for a website user to form an opinion of both you and your business?
In those 5 seconds they have judged whether or not they want to get to know you, whether to like you, and should they trust you. Those three components are essential to drawing in your ideal clients and making a connection.
This can all happen whenever anything you do as a business (or a person associated with your business) so it's important to remember that your online presence can be judged based on more than just a blog post or retweet.
Is your social media too anti social?
Take a look at what you post and what you share.
Are your posts consistently negative or are they more positive?
Are you ranting and raving or are you offering solutions to problems?
All of your posts make an impression and say something about you to your possible new lead(s).
Is your personal presence professional for in person networking? How about your website? Does it say 'professional' or does it look home made?
Look at all aspects of your presence online and off and make sure you're conveying a positive message if you want to attract your ideal clients.
You want all of your branding from your website to your social media and beyond to send a message to potential clients that you will be great to work with.
Keep track of it all and take a moment to asses whether or not all your materials are aligned in design and message and that they properly represent who you are and what you do. If you need any help with any of this please get in touch with me and my team and we'd be delighted to help.
The overall message here to make sure your personal and professional brand makes a positive statement so potential clients get a good idea of who you are, what you do, and why they should hire you/ buy from you.
If you have any questions about finding your ideal client please comment below and if you liked what you saw here please subscribe to our YouTube channel or newsletter so you can get updates and videos for small business entrepreneurs every week!
Until next time,
Susan Friesen
P.S. Are you ready to take your business to the next level? Our "All Under One Roof" boutique web development and digital marketing firm can help you make your vision a reality.
› CONTACT US TODAY
About the Author, Susan Friesen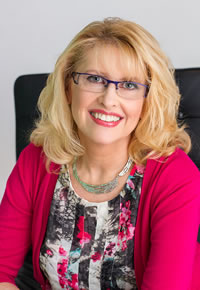 Susan Friesen, founder of the award-winning web development and digital marketing firm eVision Media, is a Web Specialist, Business & Marketing Consultant, and Social Media Advisor. She works with entrepreneurs who struggle with having the lack of knowledge, skill and support needed to create their online business presence.
As a result of working with Susan and her team, clients feel confident and relieved knowing their online marketing is in trustworthy and caring hands so they can focus on building their business with peace of mind at having a perfect support system in place to guide them every step of the way.
Visit www.ultimatewebsiteguide.ca and download your FREE "Ultimate Guide to Improving Your Website's Profitability - 10 Critical Questions You Must Ask to Get Maximum Results".