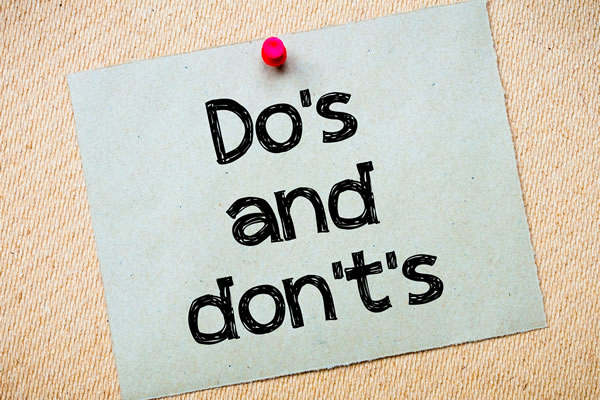 Congratulations! Your book is finally done. Years of blood, sweat and tears have finally come to this. Now comes the big question, what next? After careful research, you've decided that self-publishing is the route you wish to take, but unfortunately you aren't sure exactly what all that involves. Not to worry, we are here to help. Here are some self-publishing do's and don't's.
Self-publishing Do's
Do know that self-publishing is a business.
It's so much more than putting your company name on the cover of the book. Go into it knowing this.
That means you have to know things such as how to get an ISBN number, the requirements to get on Amazon, how much marketing will be involved, etc. And speaking of ISBN numbers, yes you do need to get one for each of your books.If you have an ebook and a paperback, they require their own ISBN.
Do have a clear goal for your book.
Do you want to only sell books or do you want to use your book to help your speaking career or business consulting?Very important. Once you know what you hope to accomplish, you will be better equipped to do so. This is especially true with self-publishing because honestly, you control everything and get to steer the ship how you want it.

That's one of the best parts of having that control. You get to decide what you want to do and can make sure you work in that direction.

Do figure out the formatting for your book and stick to it.
This avoids the typesetting nightmare that happens when you change from a 6 x 9 to an 8 x 11 format or something similar.Go to the bookstore and explore your section of books (i.e., business books, romance, etc.) to determine what format would be best for your book. And, of course, review where you are going to get it printed to see if they have any recommendations.
Do develop a great website to sell your book and don't just rely on selling on Amazon.
You want people to be able to connect with you long afterwards. This leads to more speaking and media opportunities down the road, as well as more sales for your other products or services.And don't forget to have a way for your readers to connect, leave reviews, find you on social media, and more.
Do remember the importance of marketing. With published books, you might have the first few months of their expertise, but often times that amounts to a press release sent to a targeted database and a few reviews.Create a marketing plan and work on ways to accomplish it. Know that the work starts well before the book is completed and continues on from there.

Just a few of the marketing you should be considering are:

Writing a press release and sending to targeted databases;
getting book reviews;
planning a book launch both online and live;
doing a blog tour and blogging yourself;
creating a social media plan and following through with it;
setting up your newsletter (with a great free offer) and an auto-responder series to stay connected;
Facebook or Google ads;
securing radio or TV interviews;
etc.

Now, rinse and repeat monthly and watch your sales skyrocket!
Self Publishing Don'ts
Don't look unprofessional.
Remember your book is also your brand. From the book cover to your social media and website, you want it to represent the best you.So often readers will run from a terrific book just because it looks so unprofessionally done or they see the website and it reeks amateur.

Don't let that happen to you. If you need help in an area, get it. That includes editing as well.

And speaking of editing, yes you want to have your book professionally edited even though Aunt Sally is really good at English and she has read it for you.I can't emphasize this enough. When a reader sees constant errors or even a few typos, they immediately lose a little respect. And watch for common mistakes, such as putting the punctuation outside of quotes instead of inside.

If you can't afford to have it professionally edited, consider an edit review. Many editors will do a quick review and give you some thoughts on consistent mistakes they see.

Don't spend your money unwisely.
Yes, it would be awesome to have 5,000 copies of your book and you're sure you will sell that many in a few months. However, that is rarely the case.Even if you get a lower rate, chances are your garage is going to have a couple thousand of books for the next year or so. Just be smart. Not saying not to have a supply on hand, but consider your options.Also, know many places now print on demand for each order. Just find out what is right for you. Plan too for all your expenses. Yes, you want to have a marketing budget, but know what that looks like for you and budget accordingly. Don't count on book sales for this budget.
Don't announce you self-published when it's not necessary.
Now that self-publishing is so recognized and accepted today, there is no need to lead with that fact in your marketing.No need to hide the fact that your book is self-published at all, but you don't need to waste valuable space emphasizing it.

For example the title of a press release, mentioning that it is self-published adds no value. Same with the subject link of a pitch that is going out.
Self-publishing a book is challenging, exciting, thrilling, and then downright overwhelming at times.
Be prepared for the gamut of emotions involved. And don't fret, that is normal.
Just remember, not everyone can say they are an author and have written a book. Be proud of that on a daily basis and take it all a step at a time enjoying the journey.
Hopefully these tips will help!
About the Author, Diana Ennen

Diana Ennen, President of Virtual Word Publishing, www.virtualwordpublishing.com offers PR and Marketing services and PR and Virtual Assistant Coaching. She's the co-author of Virtual Assistant - The Series: Become a Highly Successful, Sought After VA.
Sign up for her PR Tips at her site and email her at diana@virtualwordpublishing.com to receive her "pitching the media audio" from her PR Success Classes.