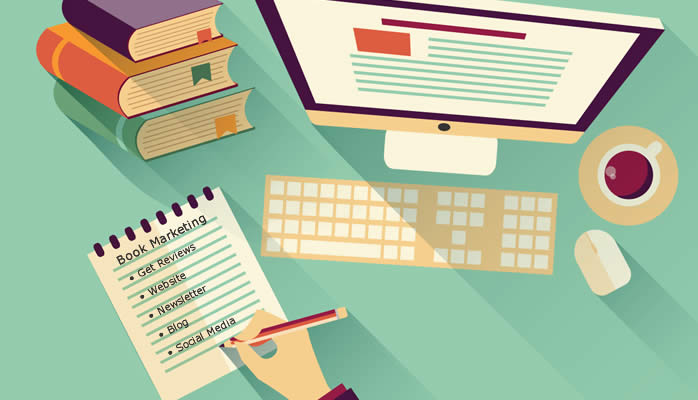 Book marketing is all about being prepared and ready to roll once your book is done. But unfortunately, marketing a book often comes when an author is so overwhelmed from the process of writing the book and finishing it, that the marketing aspect of it gets kicked to the curb.
Not to worry, these tips should help. It's all about planning ahead and doing more of the right things consistently.
Let's go over the basics of book marketing mistakes authors need to avoid:
Pursuing Costly Reviews – Book reviews are fabulous and something you absolutely want to pursue. However, one big mistake many authors make is blindly sending out tons of copies.

Remember that your books cost money and postage in sending them out. Not to mention the time to do so. So be targeted in who you send copies to. Also, it's okay to follow-up with those who have promised reviews. Now don't stalk them, but A-OK to ask.
Website Magic Missed – It very much helps to have a good website for your book. One mistake many make is having their book be more of an afterthought on their site. There is a slight mention about your book and perhaps a link to purchase, but that's it.

It's critical to give your book the space it needs to sell. If you don't have a full website for it, make sure you devote enough critical mass on the site to make a difference.
Newsletter: Incredible Free Offer Mishaps – One of the biggest mistakes most authors make is not even having a newsletter. So #1, do a newsletter.

The #2 mistake: not having something of value to give away for those who sign up. Years ago most authors would give a few chapters of their book as a giveaway. That was cool back then, but today just doesn't have the same impact. Instead give something of value such as an ebook, checklist, detailed reports or white papers, etc.

#3 mistake: not sending it out enough. Just do it!
Blogging Blunders – Biggest mistake in blogging is not doing it enough or writing the next great novel in each blog posting. No one has time to read those. Every blog post doesn't need to be a short story. Instead have just a couple thoughts so you can write consistently.

Have a plan for your postings too and consider a series of blog postings on a related topic. Your postings can solve problems and answer questions you see on your social media mentioned regularly, entertain, and most importantly always provide value.

Remember too you can have some fun with it depending on the topic of your book. Consider hosting a contest or something. Bottom line: always connect.
Who Goes There: Not Knowing Readers – Let's face it, there are millions and millions of books on the market today and even though you think your book would apply to EVERYONE, it won't. Get serious and break it down.

Try this. I think my audience would include the following: Women between the ages of 18 and 40, who love to travel, and value a good relationship. Or they are successful businesswomen who know how to get what they want. You market best when you have your target audience in mind.
Not Connecting With Readers – It's essential to engage your fans and it's never been easier to do. Make them feel you truly care about them and show how they matter a lot to the success of your book. Give back by actively connecting with them, but also, it never hurts to have a few incentives such as freebies and other personalized things.

One great tip that many successful authors use is giving their readers first dibs on their upcoming book by providing a look into it. Not only does this help with the promotions of the upcoming book, but you build loyal fans by continually making them feel special.
Social Media Boo Boos – One of the biggest mistakes authors make is they get started, build momentum, and then lose steam and basically disappear. One of the most important things you can do is plan ahead. Instead of disappearing, if you are having a hard time keeping up, cut back. Now of course we recommend going full steam ahead. But it's better to have some new postings than to disappear, come back for a few days and go gangbusters, and disappear again.

Consistency rules! Plus, don't forget it's so much more than just posting, you also need to be engaging. And it pays to pay up and promote postings and sponsor a couple of ads.

On the flip side are those who wear out their audience with way too many postings on their book. (We know you've seen these before!)

For example, "I'm writing a book." Ten posts later, "I can't believe I'm writing a book. My dream is coming true." This is actually a good thing mentioned once or twice, but every day for months, it gets old fast. "My book is almost done." And then every day an update or two. "My book has 10 more pages, yeah!" "My book is here." Cool.

And then comes the "Can you help me promote my book" and five thousand messages on that. YIKES! Now we aren't saying don't announce your book, you want to, just don't bore your audience to death with too many updates that really offer no new value.
Now that you know the mistakes to avoid, it can be easy to do so. And once again, the most important part of marketing is being engaged with the audience you know and love who want what you have to offer as an author.
About the Author, Diana Ennen

Diana Ennen, President of Virtual Word Publishing, www.virtualwordpublishing.com offers PR and Marketing services and PR and Virtual Assistant Coaching. She's the co-author of Virtual Assistant - The Series: Become a Highly Successful, Sought After VA.
Sign up for her PR Tips at her site and email her at diana@virtualwordpublishing.com to receive her "pitching the media audio" from her PR Success Classes.