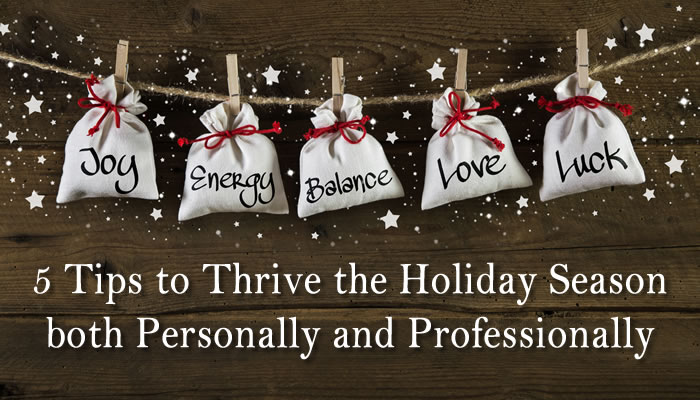 As much as there is the call for celebration and frivolity, there is arguably more stress and discontent during the holidays.
If you're lucky, you may be able to survive the pressures of family gatherings and giving while trying to end the year with your business in the black.
But it would be so much better if we could all thrive and thoroughly enjoy the season as it was meant to be and sail into the new year.
I was given the time and space to reflect on this conundrum (more on that later), and I came up with these tips to make the best of this holiday time.
Make self-care a priority. This is the number one rule in my book. And the stress of the holidays is a sure test of how well you are taking care of yourself.

Make sure you get plenty of rest and eat as healthily as possible (in between the occasional holiday treats). If you're like me, limit alcohol and sugar to reduce physical stress on your body. Give yourself a spa day to have a truly, luxurious time to relax and recharge.

My new practice is around wellness. So, it seems rather poetic to have been knocked to my knees with a painful illness – shingles.

Then I remembered from my mentors that illness is the universe trying to tell you something. For me it is to take a step out of the crazy world, stay present, and use the space to listen.

So if you find yourself sick, give yourself the time and space to heal and get curious to what message it brings.

Bottom line for your business: When you can stay healthy and relaxed during the holidays, your perspective on your business is clear and open. And the tricks you use to de-stress now can be used any time you're feeling stressed at work.
Be flexible and forgiving. This is definitely not a time for perfection or high expectations for everyone and everything to work out. Things happen (see #1 above).

Understand that every one of us is trying to do our best to make the best of the situation. With so much change and uncertainty in the air, it's important that we are open to things happening differently. Because the one thing that is for sure is change itself.

Bottom line for your business: The mix of holidays and year-end business affairs can create a challenging time – if you let it. It's important that you honor and support your staff and clients in finding that balance.

Things might need to be re-negotiated in order to get a better outcome. In addition, I find the week between Christmas and New Year's as a great space to get my business affairs in order, so that I feel more in control and can plan ahead.
Be open to changing rituals that work for you. Ever since my parents past, I have been experimenting on different ways to celebrate the holidays. Last year, I politely declined family invites and took my dog to the coast for Christmas.

Changing rituals may also include rethinking the art of giving. It seems lately that the consumer-driven way of shopping for a gift has overtaken the intention of giving.

For years, I have been giving home-made, home-grown gifts of honey, garlic, horseradish and biscotti because these are gifts from my heart and home, which is far more satisfying – for both parties.

Bottom-line for your business: If you sense there is a system or process not working for you (which means for your clients as well) in your business, perhaps it's time to bring it forward and work with your staff or clients on coming up with a better plan for all.
Celebrate the winter solstice. You know that most (if not all) the holidays at this time of year originated from the celebration of the light at solstice.

The best way to honor the seasonal shift from the dark to the light is to go outside and observe the beauty of nature – the snow (or rain), the moon, the stars, the trees, the birds.

At night, light a fire or candle or hang star lanterns in your window. Of course, song and dance are completely appropriate!!

This beautiful interlude can set a celebratory mood and intention for the coming gatherings and celebrations.

Bottom-line for your business: This time of reflection and looking forward to the light returning is a perfect space to set intentions for the success of your business in the new year. Make sure you ask yourself what would bring more light to your work so that your business brilliantly shines in the next 12 months.
Plan your next vacation. Yes, it's important to ponder on plans for the new year, especially around your business. But don't forget to plan your trips and vacation time.

This is the ultimate step in self-care and wellness, and it is something to look forward to in the coming months. See if you can plan for a quarterly break, even if it is a long weekend.

Bottom-line for your business: Consider going on a personal retreat in January where you can continue the work from the solstice and develop an annual business plan with target dates and measurements of success.
So, which tips are you going to try out this year? Do you have any that you could share?
Be well and see you next year.
About the Author, Elizabeth Walker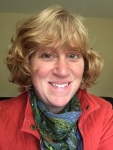 Elizabeth Walker is known as a "natural" in reinventing herself. After nearly 25 years as a consulting urban forester, and more recently a farmer and blogger on sustainability and permaculture, she is exploring ways to help others become the best of themselves with her unique Alignment Magic system.
She looks forward to identifying and engaging her ideal clients through nature-based coaching and mentoring and help them achieve abundant and sustained health, wealth and happiness in their lives. For more information, visit her website: earthbodywellness.net