I'm certain you've noticed a massive increase in social media videos, and you might be interested in using video for your business, but don't know what to film about.
In today's video eTip, I'm sharing five ideas for types of stories you can tell on social media.
First Determine Who Your Videos Are For
Before you start filming anything, you need to take a moment to figure out who your target audience is.
Who are you trying to reach in your video? You want to make sure you are creating your videos for the right people and sending the right message.
Ensure you are talking to the right people in the right way that will draw in your ideal target market so they can learn more from you and about you.
Your goal is to inform your audience and provide something of value. By showcasing your expertise, you are building your brand image which will help with conversion rates and potentially attract new clients.
Be mindful of different social media video platforms and their allowed lengths
Each social media platform has its own rules as to how long they will allow your videos to be. Here's a quick reference guide:
Facebook allows up to 2 hours of video (though you probably wouldn't want to use all this time),
Twitter allows 2 minutes and 20 seconds,
Instagram provides one minute,
Snapchat gives ten seconds and
Vine gives 6.
Be mindful of these guidelines  but keep in mind I am talking about video more suited for Facebook and YouTube. You could also make truncated versions of these videos for other platforms.
Have the Right Amount of "Head Space"
"Head space" determines the amount of room there is between the top of your head and the top of the camera frame.
5 Ideas for Social Media Videos:
Share Your Knowledge

This is an opportunity for you to share your expertise and knowledge with your audience. Demonstrate you have something of value to offer your target market.

This is your chance to show your skills and give people an idea about what your business can offer.

If you have the sacred gift of knowledge, this is a great opportunity to exercise it.

How-To Video

Demonstrating how to use a product or showing something step-by-step in a video can be highly effective.

Taking some of your FAQ and answer them in video by visually showing customers how to solve their problems. You can also show them how to access features and promotions they didn't know about.

Answer Questions

Facebook Live is great for this. You can get on video, interact and answer questions. This is a great way to show you care about your audience and want to address their concerns.

It also gives potential customers the opportunity to learn about your business and its services. Instead of using Facebook Live, you could pre-record a FAQ video and post it. Here, you can answer previously submitted questions to give you time to prepare your responses. This allows you to create themes for your videos and map out areas of concern you might hear from clients or potential clients.

Behind the Scene

Make a video and share what's going on behind the scenes. You can demonstrate how you are creating products or show the activity happening in your warehouse if you have one.

Highlight the beauty of office life by showcasing your employees and the collaborative efforts of the people working there.

Even if you work alone, there's always something you can bring to light in a "behind-the-scenes" video.

Tell Stories

Telling stories is always a great way to capture the interest of your audience. You can share experiences your audience would relate to. Provide insights about you, your company or events you've attended.

Tell stories that relate to your business and its core values. Tell stories for entertainment, information and inspiration.
If you have any questions about incorporating video into your online marketing, feel free to leave a message in the comment section below and I'd be happy to answer.
Until next time,
Susan Friesen
P.S. New to Social Media and online marketing or find it overwhelming and confusing? Check out Social Blast: eMarketing for Entrepreneurs. It's a monthly group coaching program for those just starting out or wanting more advanced strategies to help with their online marketing and social media efforts.
>> CLICK HERE FOR DETAILS
P.P.S. If you found this article helpful, please share it with your Twitter followers:
5 Social Media Video Marketing Strategies to Help Showcase Your Business
Click To Tweet
About the Author, Susan Friesen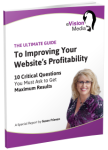 Susan Friesen is the founder of eVision Media, a boutique web development and Digital Marketing firm of over 15 years that specializes in designing, building and marketing professional, unique websites for entrepreneurs, businesses and organizations.
Visit www.ultimatewebsiteguide.ca and grab your FREE "Ultimate Guide to Improving Your Website's Profitability - 10 Critical Questions You Must Ask to Get Maximum Results".