Today's eTip asks you an important question – just how committed are you to your business?
Today I want to ask you a question, just how committed are you to your business?
Over the years I've noticed some entrepreneurs are a bit lackadaisical about their approach to their business. They'll take tons of time off, especially during the summer.
They have lots of reasons not to work on their business; either their kids need them or their parents need them or their husband needs them. The laundry is far more important than actually working on their business…
So that's why I'm asking that question today because if you are not really super committed to actually creating a business as opposed to a hobby or finding that next to 'get rich quick scheme' and just making a load money that you think you can make watching all of these gurus online.
Think about that… how committed are you to your business?
How committed are you to your business?
Click To Tweet
There is no right or wrong answer. Of course I'm not judging you here. I just want to help you clarify what is it that you are willing to do, what is it that you are willing to commit to in order to make your business actually a success, if that's what you want.
It may be best to even define what success means to you.
Sometimes making money is not the ultimate goal here. Sometimes you need to feel more fulfilled, feel like you are following your life's purpose.
Whatever that means to you, make a commitment.
Make a commitment to actually fulfill whatever your dream is and not waste any time and let excuses get in the way of preventing you from fulfilling that dream.
Do a one-year or five-year plan. Try to think about what is it that you really want to accomplish. Are you just making some extra cash or are you really trying to build a business?
If you are really trying to build a business, what exactly are you committed to? Are you going to work five, six, seven days a week or are you going to allow a lot of excuses to get in the way to stop you from doing the work that needs to be done in order to create a lifelong sustainable business?
Let me know what you think! Leave a comment below and if you have any questions or comments I'll be sure to answer.
To your success,
Susan Friesen
P.S. New to online marketing or you find it overwhelming and confusing? Check out Social Blast: eMarketing for Entrepreneurs. It's a monthly group coaching program for those just starting out or wanting more advanced strategies to help with their online marketing and social media efforts.
CLICK HERE: www.socialblastcoaching.com
About the Author, Susan Friesen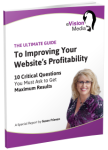 Susan Friesen is the founder of eVision Media, a boutique web development and Digital Marketing firm of over 15 years that specializes in designing, building and marketing professional, unique websites for entrepreneurs, businesses and organizations.
Visit www.ultimatewebsiteguide.ca and grab your FREE "Ultimate Guide to Improving Your Website's Profitability - 10 Critical Questions You Must Ask to Get Maximum Results".