Today's eTip is about considering the benefits of hiring a business mentor or coach…
Listen to today's 1 minute tip to find out the difference between a business coach and mentor and why you should seriously consider hiring them to help you grow your business.
One way that can really help you grow your business fast is with a business mentor or coach.
A mentor is someone who has already walked in your shoes. They are experienced in what you are facing and can fast track you along your growth path without you having to go through a steep learning curve or go through the school of hard knocks with many mistakes along the way.
A coach has a slightly different approach, they are trained to help you figure out your roadblocks, become better accountable for your business success, and share their tried-and-true processes and systems that will help you make leaps and bounds in your business.
Hiring one or the other, or both for that matter will escalate your business profits tenfold. They will avoid you from making bad decisions that leave you in financial distress and conducting self-sabotage to your own success, whether you realize you are doing it or not!
Have you ever entertained hiring a coach or mentor? If so, mentoring is something I do for a select few people and would be happy to discuss this possibility with you.
I'd love to hear your thoughts on this – have you hired a coach or mentor in the past? Share your experience in the comments section or if you have a question, I'd be happy to answer.
To your success,
Susan Friesen
P.S. If hiring a coach or mentor is outside of your budget, consider our monthly group coaching program if you're new to Social Media or find online marketing overwhelming and confusing. Check out Social Blast: eMarketing for Entrepreneurs. It's for those just starting out or wanting more advanced strategies to help with their online marketing and social media efforts.
CLICK HERE: www.socialblastcoaching.com
About the Author, Susan Friesen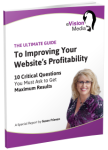 Susan Friesen is the founder of eVision Media, a boutique web development and Digital Marketing firm of over 15 years that specializes in designing, building and marketing professional, unique websites for entrepreneurs, businesses and organizations.
Visit www.ultimatewebsiteguide.ca and grab your FREE "Ultimate Guide to Improving Your Website's Profitability - 10 Critical Questions You Must Ask to Get Maximum Results".