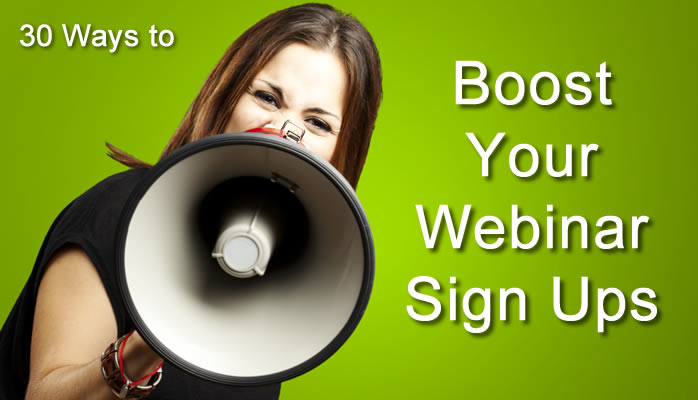 Hosting a webinar or teleseminar is a powerful way to grow your list, expand your visibility, and explode your income. It's such a fast, easy and convenient way to promote your business.
But many people find themselves stuck in terms of knowing how to promote their teleseminar to get people to sign up for it.
In order to pull off a great event, you'll need to plan for success:
Choose a great topic.
Pick a day and time.
Allow yourself enough time to build an audience and market your event.
There are hundreds of ways you can promote your webinar and the more time you spend getting the word out about your event, the more buzz you can create.
The key is to pick a few strategies you think will work best.
Remember that to generate sign ups, you can't just send an email blast with a couple of Facebook posts.  You need a real strategy in place. It is important to contact your prospects multiple times, including right up until your event.
Here are 30 ideas to promote your webinar or teleseminar:
Start with a compelling title. Make it sound like something so interesting that people are excited to attend.
Create a landing page on your website. (Read our 10 Tips for High Converting Landing Pages here)
Buy your own domain name specifically for the event and point it to the event landing page. This makes it easier for people to tell others about how to find out more and sign up for the event.
Next add Share buttons ("Tweet this" "Share on Facebook" etc.) on your website thank you page and encourage attendees to tell a friend about the event after they sign up.
Add a pop up message or exit pop up telling website visitors about the event. They can click to find out more on the landing page.
Create a special report to capture leads for people in your target market. Then send a follow up email telling them about the event.
Write a post (or a series of posts) on your blog before the event. Write articles on the various topics you will discuss at the teleseminar.  Then place a teaser about the teleseminar in the article byline.
Become a guest blogger by seeing if you can write guest articles for blogs of colleagues with a similar audience. Technorati.com is a blog directory to help you find high traffic blogs for your target market.
Utilize article marketing and develop several articles revealing some of the biggest challenges people face in the areas your teleseminar addresses and promote these articles in article directories.
Write a newsworthy press release that shares some tips, statistics, or a story about someone with the issues that your teleseminar solves. If you can tie into a trending news topic even better.  Then promote the press release on paid and free press release directories.
Send promotional emails to your list. Create a series of 3-4 solo blasts promoting your event.  Each note can address a different area your virtual event will cover. Be sure to include the title of the event, date, description, and bullet points.
Offer a special gift to people who attend the call and use it as part of your promotions. For example you may wish to give a big discount, do a drawing for a free product, a free seminar ticket, or give away a free ebook for all those in attendance.
Recruit your friends to spread the word. Pull together your army of brand advocates, BFF's, and close colleagues to mention the event on their blog, social media, and email lists.  Think about people within your circle of influence who already have relationships with prospects for your seminar. You can offer to repay the favor to them in return.
Offer an affiliate program. If you will be offering coaching or a product at the end of the sales call, you can setup the teleseminar to be promoted by your affiliates.  Help them to be successful by giving them a tool kit of banners, blurbs, articles, solo blasts, and more. Kick it up a notch by creating an affiliate contest for the top promoter!
Rock the social media. Create a series of posts to promote the event on Facebook, LinkedIn, Google Plus, and Twitter.
Mention your event in Facebook Groups, Linkedin Groups, and forums that you belong to.
Create a Facebook event. To create an event click Events in the left menu of your Facebook homepage, then click Create in the top right, then fill in the event name, details, location and time, and choose your privacy settings. Keep in mind that you must include an event name and time. Then just click Invite Friends to add friends to the guest list and click Create.
Use targeted ad campaigns with Google AdWords, Yahoo!, Bing, Facebook, LinkedIn, or Twitter. You set the budget and control the costs of the campaign.
Put a teaser in your email signature about your event.
Promote it on teleseminar promotion sites. Some sites to list your event at include PlanetTeleclass.com, SeminarAnnouncer.com, CCUlearning.com, AllConferences.com, and Full Calendar.
List your event on Craigslist. Craigslist is a great way to promote an event.To list your event, look for the events section.  Click where it says Post.  Choose Event as the category. Then simply enter your event date, title, location, and a description.
Do a podcast tour. Look in directories like BlogTalkRadio for podcasts where you could be featured and mention your upcoming event during the interview.
Record video tips and promote it on YouTube, Viddler, Metacafe, or iTunes.These could be short video answers to some of the most common problems your audience faces.  Do a survey or perform keyword research to get topic ideas.
Create eye-catchy flyers. This will be handy as you are out meeting people at local networking meetings and talking about your event.  Hand them out to people at Chamber of Commerce events, Meet-Up groups, networking groups, tradeshows, Kiwanis, breakfast clubs, Lions clubs and industry associations.
Offer to do a free speaking presentation for your local chamber of commerce and other local groups.
If you attend a networking meeting, mention about your event and pass around a sign-up sheet for people interested in attending.
Utilize newsletter advertising. Some ezine owners offer advertising space in their newsletter.  Find the right newsletters for placing ads so you are marketing directly to your target audience.
Incorporate newspaper event listings. Conduct an Internet search for online community or event calendars for your area. Most local papers offer to promote your local event for free in their event calendar.  Submit the event 6-8 weeks in advance.
Contact organizations whose members would benefit from your event and see if they would be interested in promoting the event to their members.
If you have a pile of business cards, consider reconnecting with those people and offer them an invitation to your event.
If you are planning a teleseminar or webinar and would like help promoting it, eVision Media has helped speakers, coaches and consultants like you to boost event sign ups and make more money from event sales.
Ask us for information on promoting your next teleseminar, webinar or event.
To your success,
Susan Friesen
About the Author, Susan Friesen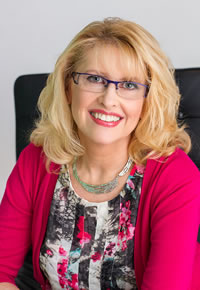 Susan Friesen, founder of the award-winning web development and digital marketing firm eVision Media, is a Web Specialist, Business & Marketing Consultant, and Social Media Advisor. She works with entrepreneurs who struggle with having the lack of knowledge, skill and support needed to create their online business presence.
As a result of working with Susan and her team, clients feel confident and relieved knowing their online marketing is in trustworthy and caring hands so they can focus on building their business with peace of mind at having a perfect support system in place to guide them every step of the way.
Visit www.ultimatewebsiteguide.ca and download your FREE "Ultimate Guide to Improving Your Website's Profitability - 10 Critical Questions You Must Ask to Get Maximum Results".