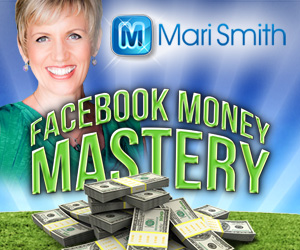 Sometimes things in this digital world still surprise you. For the longest time I had been suspicious that social media, like Facebook, was just a fad. As it turned out, I was wrong. Fortunately there are some very savvy social media people out there to help us, and Mari Smith is certainly one of those!
Mari is a very smart woman when it comes to social media, and I've learned from her wisdom personally. This is why I wanted to share her brand new offering with you!
Her new course — Facebook Money Mastery — shows you behind-the-scenes marketing strategies and real-world tactics that some of the world's most successful companies are using today — and earning a significant return on all the time and money they've put into their social media presence.
Isn't that exactly the kind of info we'd like to know?!
Starting June 5th, 2012 she is starting a series of 8 webinar sessions on using Facebook to make you money.
The best part? She's cutting a big discount for those that sign up now! Not only that, but if you're not 100% satisfied with the webinar she's offering a full money back refund valid even after you attend all the classes! That's not "low risk", that's no risk!
So, if you want to see your business maximize it's ability to make money with Facebook, then join me on this course to have Mari show us how it's done!
Once again, join here: http://bit.ly/FBMoneyMast
Kind regards, and best of luck to your businesses!
Sue
P.S. Like you, I don't always have time to be somewhere at a specific time watching a webinar. Fortunately, Mari has that covered! All of her classes are archived so if you miss them, you can watch them later. So there is no risk of you missing anything.
About the Author, Susan Friesen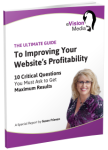 Susan Friesen is the founder of eVision Media, a boutique web development and Digital Marketing firm of over 15 years that specializes in designing, building and marketing professional, unique websites for entrepreneurs, businesses and organizations.
Visit www.ultimatewebsiteguide.ca and grab your FREE "Ultimate Guide to Improving Your Website's Profitability - 10 Critical Questions You Must Ask to Get Maximum Results".