As you know, there are no accidents and we all find each other for a specific reason. That's why I'm excited to tell you about our latest telesummit project.
We have been working with one of the fastest-growing global information and influence companies in the world – the I AM Group.
They've created an amazing online event called "The New Awakening Super Summit" to inspire, educate, and illuminate all facets of your highest human consciousness through the alignment of our bodies, minds, souls and spirit.
I invite you to join us on a journey and peel back those layers of disappointment, sadness, regret, negative beliefs and failure and eliminate them completely.
Join us at no cost to you on The New Awakening Super Summit here:
http://bit.ly/NewAwakeningSummit
Harrison Klein and his wonderful hosts welcome you to be present when they give you the most practical and effective methods and techniques from 24 best-selling authors and personal development experts to awaken your consciousness to new ways of thinking. Their intention is to illuminate your every thought with positive messages, love and kindness so you can take inspired action and enjoy all the success, happiness, abundance and wealth you so truly deserve.
It is only through awakening and shifting your consciousness on the inside and being fully appreciative of the blessings you have in your life that you can ever hope to achieve happiness and prosperity on the outside.
If you're ready to experience your new awakening, then join this outstanding panel of inspirational speakers on the FREE New Awakening Super Summit, where they will guide you on a transformational journey to do exactly that.
This wonderful complimentary online event starts April 30th and runs through June.
Find out more about The New Awakening Super Summit here:
http://bit.ly/NewAwakeningSummit
Here's just a sample of the fantastic speakers and topics you have to look forward to:
* Entrepreneur, researcher and explorer of consciousness and human behavior John Assaraf is doing an exclusive video interview you won't want to miss!
* One of the world's leading authorities on human behaviour and personal development, Dr. John Demartini talks about Mind Over Body: Understanding Hidden Agendas & Unconscious Motives.
* Certified hypnotherapist Tellman Knudson takes you through a live group hypnotherapy session – your state of being will be completely altered during this session.
* Best-selling "Letting Go" author Guy Finley discusses Awakening to Being Fearless and Free. Find out how you can turn your fear and vulnerability to strength that you never thought possible.
* Gary Douglas, Founder of Access Consciousness shares Simple Tools for Easy Change and How to Learn to Communicate With Your Body and Trust Your Awareness.
* Dr. Sue Morter explores The BioEnergetics of Awakening to your Highest Life Purpose. Discover an ancient technique that will allow you to activate the innate wisdom that's already inside you.
* Internationally-recognized healer Ann Taylor Awakens Your Power to Prosperity and Abundance. All your worries and fears about money will be eliminated completely in just a matter of minutes.
* Founder of Quantum-Touch Richard Gordon talks about "The New Human" and Redefines What It Means to Be Human. This is about reconnecting to your energy and power and letting it shine for the whole world to see.
* Dr. Alex Loyd guides you to Awakening to a New Consciousness for Healing Yourself and Others. Imagine how powerful and in control you'll feel when you take your healing into your own hands.
* Best-selling author Christy Whitman Awakens and Expands Your Consciousness for Abundance in all areas of your life – whether it's money in the bank or a wealth of close relationships, family and friends.
* Dr. Bradley Nelson Awakens the Perfect YOU Inside by Tearing Down the Walls Around Your Heart so you can finally shine your light and be the person you are meant to be.
* Mahendra Trivedi and Debra Poneman open you up to Awakening Miracles In Your Life – They Do Happen and they are a powerful force for change.
* Noah St. John shifts your thoughts on Afformations – The Missing Piece to Having Abundance so you can create the abundance you so richly deserve.
* Rikka Zimmerman teaches you How To Be The Master of Your Phenomenal Life – it's time for you to be the master of your domain.
* Margaret Lynch shows you how to Unlock the Secrets of Your 1st Chakra Money Paradigm and Step Up to a New Wealth Reality.
* Harrison Klein awakens your mind to the core I AM Principles which can totally shift your perceptions.
* Successful entrepreneur and actress Kristen Howe gives you the Power of Proof so you can finally change your vibration and magnetize what you desire.
* Graham Phoenix teaches a new paradigm in How to Love a Woman. Whether you're male or female, there's a new way of thinking that will help you better understand the opposite sex.
* And there's much more in store for you …
To find out more, see the full roster of speakers and their topics and to register, click here now!
http://bit.ly/NewAwakeningSummit
And you're covered if you can't make the live broadcasts . . . you'll be able to participate no matter where you live and no matter what kind of schedule you have. You can either listen to the live calls via phone or webcast, or to the replays for 48 hours afterwards, all for FREE.
Here's that registration link again:
http://bit.ly/NewAwakeningSummit
I look forward to meeting you there,
Sue
P.S. Never again will you find this group of amazing speakers all together in one place. Please join me as we shift our reality.
http://bit.ly/NewAwakeningSummit

About the Author, Susan Friesen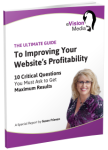 Susan Friesen is the founder of eVision Media, a boutique web development and Digital Marketing firm of over 15 years that specializes in designing, building and marketing professional, unique websites for entrepreneurs, businesses and organizations.
Visit www.ultimatewebsiteguide.ca and grab your FREE "Ultimate Guide to Improving Your Website's Profitability - 10 Critical Questions You Must Ask to Get Maximum Results".