March 30, 2012 is the day when Facebook will be switching your Fan Page over to the new Timeline format.
If you have no idea what this means, you're not alone! Here's the scoop: The new timeline means a whole different look to your Facebook fan page (not to be confused with your personal profile, which is also being converted over to the timeline format.)
Here is a screen capture of our current eVision Media Fan Page before switching over to the new timeline: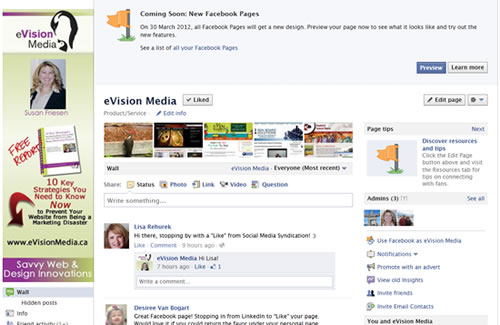 And here is how it will look once we do the switch over on March 30th: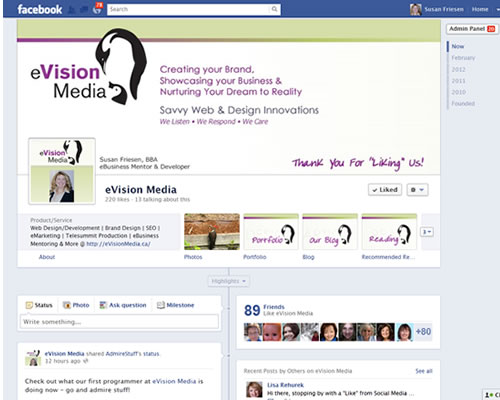 Things you need to know about the new timeline
I've detailed what the main changes are and included some pointers that you need to know with this forced transition:
1. The banner (or logo or photo) that is currently on the left hand side of your page will be gone and is replaced with a much larger, "cover" image along the top of the page. The new cover image dimensions are 815px across by 315 pixels wide.
2. There is a smaller, inset image for either your logo or your personal photo (I prefer a photo to help build relationships with your fans. You'll see with ours, I have a photo of me that also has our logo – but I may change that.) Keep in mind that whatever is appearing in that smaller window is what will appear with your text whenever you make a comment on someone else's page or profile when using Facebook as your page (again not to be confused when using as your business page.) The smaller image is 111pixels wide by 74 pixels high.
3. On this larger top banner, there are specific guidelines everyone must follow such as having NO call to action, website address or any kind of advertising/promotion features on it. This includes inviting people to "like" you or to sign up for your free report. It is recommended this banner image be created carefully so that it is consistent with your branding and contains vital information about your business.
4. There is no longer the ability to have a landing "Welcome" page. This means if someone goes directly to your Fan page, they will see the main timeline and not an invitation to "Like" or sign up for your eNewsletter or watch a video etc. However, this does not mean that "welcome" pages are dead or no longer useful.
They are still vital to use wherever you have a link or button that goes to your Facebook Fan Page, that link can direct users straight to your Welcome page instead of the timeline. Stats show that you will get more conversions if people are sent to a welcome page as opposed to just the default view of your page, so this should still be an integral part of your social media marketing plan.
5. There are no longer "tabs" along the left side and instead, they are being replaced with "Apps" that are located under the main banner image. These apps are where you can add in extra features to your page. The image thumbnails to these apps are moveable except for the very first one, the photo gallery; otherwise, you can showcase your welcome page and invite people to sign up for your eNewsletter or add in other specialized content pages that can even be drawn in from your website. (You'll see from our image above that we have our portfolio, blog and recommended reading apps as being featured.)
Only 4 apps can be visible at the top but you can add as many as 12 apps to your page. You can have your own image with any of the 3rd party apps that you install but you cannot change the thumbnail image of any default Facebook apps such as: Photos, Videos, Likes, Notes and Events.
6. The chronological nature of the Timeline allows you to showcase your business history in an innovative manner. You'll notice it is now in two distinct columns, as opposed to one main center area for your posts. It takes some getting used to but essentially, your posts are on the left and if someone else creates a post on your page, it's added to the right, along with other information that Facebook showcases.
7. Facebook has created a "Featured Promotions" ability where you can "pin" a post to the top of your timeline and it will stay there for a week. You can use this feature every week to highlight a contest, important information or a great tip for your followers. Keep going in every week to put something new up there.
8. Lastly, you can make a post the whole width of your screen, as opposed to just the width of a column. This is great for drawing attention to a post that you want to highlight on your page.
As you explore the new timeline (you can see how it will look before making the permanent move by clicking on the "Preview" button on your old page) you will see there are lots of differences to note but too many to detail in just one article. Go ahead and start exploring the new features of the new timeline (if you haven't already) and get creative with it!
To your marketing success,
Susan
PS: If social media in general has you confused more than ever, you might want to check out my monthly group social media membership program where each month, I explain a specific topic about social media so that you can get more clarity and stop wasting precious time and effort.
Here's the link to get more information: http://www.socialmediagroupcoaching.com/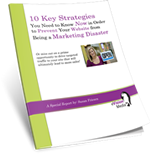 About the Author
Susan Friesen is the founder of eVision Media, a boutique web development and eMarketing firm of over 10 years that specializes in building professional brands for entrepreneurs, businesses and organizations.
Visit www.evisionmedia.ca and grab your FREE report that will show you how to prevent your website from being a disaster.