Over a year ago, we decided it was time to give eVision Media an updated look. The colours were getting old and tired, the website was definitely out of date, and none of our marketing materials were truly depicting the quality and scope of services we offer.
We were definitely suffering from the old Shoe Cobbler's Son Syndrome! Well, our poor son finally graduated from wearing a pair of cheap thongs to having nice, new and shiny shoes!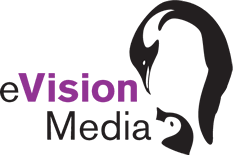 In order to re-brand, we first needed to get clear on who our ideal target market was so we could make some changes to our brand positioning that would allow us to specifically attract new entrepreneurs as well as established business owners.
The first step to our re-branding was to update our logo. As much as we loved our old logo, it was time to make it more polished and professional looking. (Many thanks to Daniel's mom for drawing that first penguin and her chick, it will be cherished as our first baby forever!)
During the logo design process, we also made changes to our brand colours. These new colours are not only fresh and more contemporary, but  were specifically chosen to appeal to our target market.
Many proofs and logo versions later, we finally decided on the one you see on the site today. Our new brand had been established!
Now it was time to get busy and re-design and develop our website along with all our other marketing materials.
It took our whole team to get involved in this process. Due to us being such a busy firm, it was hard finding the time to spend working on it! Many months later, we can now proudly send people to our site!
While you are here, please sign up for my brand new free report called, "10 Key Strategies You Need to Know Now to Prevent Your Website from Being a Marketing Disaster" over on the right hand side or click here.
I guarantee this report will enlighten you on important aspects to consider when developing your website and marketing your business.
Thanks goes to our whole eVision Media team for all the hard work and effort in getting our new brand and new website launched!
Sue
PS Along with this new launch, we have also added a new service offering. Well, it's not really new but let's just say it's official now! Click here to find more information about my new mentoring packages!